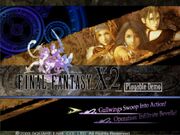 Final Fantasy X-2 Playable Demo, is the demo of Final Fantasy X-2 released in United Kingdom in a magazine called Official UK PlayStation 2 Magazine. In North America, it was released on issue #75 of the same named magazine. It has also been released in Europe on similar magazines.
There were two stages included in the demo: Mt. Gagazet sphere race from the game's beginning and infiltration of Bevelle Underground which in actual game occurred after the recovery of the sphere's pieces from Chateau Leblanc.
Ad blocker interference detected!
Wikia is a free-to-use site that makes money from advertising. We have a modified experience for viewers using ad blockers

Wikia is not accessible if you've made further modifications. Remove the custom ad blocker rule(s) and the page will load as expected.