Welcome to Shinra News (formerly Current Events, Midgar Press and Bonga Bugle), the propaganda machine of the Shinra Electric Power Company, now hosted at the Final Fantasy Wiki. Here, special news pertaining to the Wiki and the Final Fantasy series that grab our attention will be reported for all to read. Anyone can start a news report, but be sure to leave the date, location, source and sign your report with three tildes (~~~) before sending in to the printing press.
News reports should be structured in a chronological manner, with recent issues posted at the top. To post a reaction or write a comment, follow the links provided according to the respective news link. Remember, only news related to the Wiki and to the Final Fantasy series are allowed. Let's work together as a community to maintain the newsletter! If you find that our reports are either incorrect or incomplete, feel free to edit them as you feel fit. Just be sure to include a note that you've edited it with (''Edited by'') along with those same ~~~ below the original reporter's name.
After reporting news, please place a mention of it along with a direct link to that section on this page: /News Box, so that it will appear on the Main Page. To save space, please limit news entries on the News Box to only five.
All Shinra News stories will also be reported on our Facebook and Twitter pages.
Old news articles are in the Archives:
January 16th by One Eco
Square Enix has surprised the western audience today by announcing that Dissidia Final Fantasy Opera Omnia, will no longer be exclusive to Japanese iOS and Android smartphones by the end of this month.
Final Fantasy XV PC and Royal Editions coming 6th of MarchEdit
January 16th by Keltainentoukokuu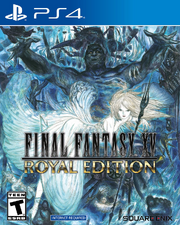 Final Fantasy XV Royal Edition will release for the Xbox One and PlayStation 4 alongside the Final Fantasy XV Windows Edition for Steam, Origin and Windows 10, on 6th of March 2018. The special editions feature the base game, downloadable content, and new features.
Expanded Map: Insomnia City Ruins – all-new side quests and enemies such as Cerberus and Omega will be available through the expanded map of the Crown City of Insomnia. Players will also take on the Rulers of Yore.
A fully-controllable Royal Vessel boat, expanding the world of Eos and allowing players to explore the area between Cape Caem and Altissia. Players will also be able to fish aboard the vessel and discover new fishes and dishes.
A new accessory that can activate the new action "Armiger Unleashed"—players will be able to unleash powerful attacks while the Armiger is summoned. After collecting all of the royal arms, players will be able to find an accessory in an unidentified part of the world, enabling access to Armiger Unleashed.
A new first-person camera mode, allowing players to experience the game from Noctis' perspective.
More than a dozen pieces of downloadable content including weapons, Regalia car skins and item sets.
All season pass content, including Final Fantasy XV: Episode Gladiolus, Final Fantasy XV: Episode Prompto, Final Fantasy XV: Comrades and Final Fantasy XV: Episode Ignis.
Archive – players can review the "Cosmogony" stories scattered throughout the world. Additional local myths and legends will also be placed in various new locations, allowing players to obtain more information about the world.
Quest to obtain and Strengthen Regalia Type-D
New Trophies
The FINAL FANTASY XV base game
Read the full press release here, including system requirements for the PC version
January 11th by Keltainentoukokuu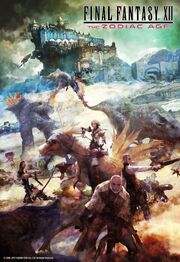 The HD remaster version of Final Fantasy XII that was released on PlayStation 4 last summer, is coming to Steam on February 1st. In addition to the improvements added to the PlayStation 4 version over the PlayStation 2 original, the Steam version will be further enhanced with new features:
60FPS
Compatible with 21:9 ultra-wide monitors - Up to three HD monitors can be used for a potential 48(16x3):9 experience.
New Game Plus and New Game Minus are now accessible from the beginning of the game.
Three background music options – The original, re-orchestrated and soundtrack versions are now available from the beginning of the game.
Maximized License Points and Gil - New functionality added to grant players max License Points and Gil from the configuration screen.
Full controller support and Steam Trading Cards
On Thursday, February 2nd at 12:00 a.m. Pacific, Producer Hiroaki Kato and Director Takashi Katano will answer questions presented by fans on Twitter. Viewers can tune into the program, complete with English subtitles, on the Square Enix YouTube channel.
A Collector's Edition available for pre-order from the Square Enix Online Store for $149.99. It features an official Collector's Edition Steelbook™ with the original soundtrack, a five-piece Judge Masters Bust Set, six-card art set and a digital download code for the game.
Fans that purchase the game through Steam within the first week of launch will receive a 20% discount, a three-track digital music compilation, and a Steam Skin illustrated by Isamu Kamikokuryo.