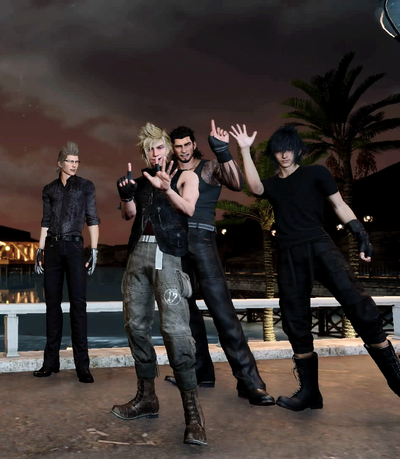 Screenshot of Noctis and friends posing for a photo from Final Fantasy XV. In XV, Prompto can take photographs whenever he is in the party, which can then be viewed when the party is resting. The player can post the photos to social media; this feature, unique to XV, grew out of Hajime Tabata's desire to create a game which would impact social media, thus capitalizing on the mobile-gaming trend rather than attempting to compete with it. Tabata views XV as an experimental vessel for the future of Final Fantasy and gaming as a whole.
True to real-life social media apps such as Instagram and Snapchat, Prompto's camera can unlock filters with which he can modify his photos. A recent patch, XV 1.05, increased the number of photos on Prompto's camera roll from 150 to 200.
If the party poses for a photo, they will frequently pose with one finger in one hand and five in the other, to indicate the number fifteen. Allusions to the number of the game are prevalent throughout Final Fantasy, and date back at least as far as Final Fantasy VII, in which the terrorist group AVALANCHE operates out of 7th Heaven, a bar with seven permanent residents based out of Sector 7.