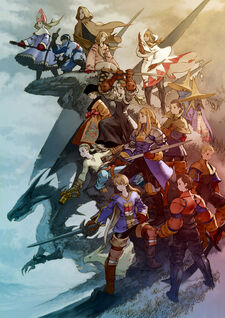 The Final Fantasy Wiki has a Discord server used by the main community, which can be found at this link, and serves as the main communication platform for the wiki. This is used for discussion about the wiki's content and policies, Final Fantasy subjects or general chit-chat. It also contains voice chat rooms for users who want to hang out, play games as a group, or for the Let's Play and Podcasts.
In addition, we are affiliated with the Discord of the Final Fantasy subreddit community, which is serves as a communication platform for the broader Final Fantasy community, and can be used to discuss Final Fantasy subjects, general chit-chat, self-promotion, and asking help with the games. Wiki Staff can also be identified and contacted here if you have a question.
Discord requires a signup with an email and password, but once joined, is very simple to join and convenient to use. No downloads are required unless extra convenience is desired, and it can be accessed on web and mobile easily, with the ability to pick up and join the discussion from anywhere. Discord also allows users to join a large number of other servers and easily switch between them.
The rules of both Discords can be found in their respective channels, however the general rules for both are:
Do not harass, insult or otherwise hurt the experience of any of the users or moderators.
No NSFW or illegal content, including ROMs or how to otherwise pirate games, is permitted.
In general, if a text channel does not permit spoilers, post it in a separate channel that permits them.
Do not spam any chat, or advertise any content not considered fanworks.
Excessive use of memes outside of specific meme channels is prohibited.
Breaking any of these may result in a kick, a temporary ban for one or several days, and repeat offenses a permanent ban.
The Official Wiki Discord can be joined below:
If you see this, your JavaScript might be disabled or DiscordIntegrator plugin isn't working. If the latter, please contact a wiki administrator.
or simply follow this link.
You can also join the Final Fantasy Reddit Discord at this link.