Ad blocker interference detected!
Wikia is a free-to-use site that makes money from advertising. We have a modified experience for viewers using ad blockers

Wikia is not accessible if you've made further modifications. Remove the custom ad blocker rule(s) and the page will load as expected.

Welcome to the Final Fantasy Wiki,
the Final Fantasy resource that anyone can edit.
Started March 13, 2005, the wiki has more information than Cid could research!
Spoilers are appropriately enclosed in spoiler tags. See our policy for details.
The Final Fantasy Wiki's featured article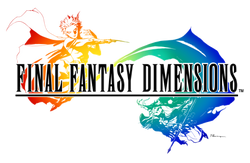 Final Fantasy Dimensions (ファイナルファンタジー レジェンズ 光と闇の戦士, Fainaru Fantajī Rejenzu Hikari to Yami no Senshi?, lit. Final Fantasy Legends: Warriors of Light and Darkness) is a Final Fantasy game for mobile devices. It is an episodic game, released starting in September 2010 on the i-mode distribution service and winter 2010 for the EZweb distribution service. Final Fantasy Dimensions features 2D graphics and a job ability system, and returns to classic Final Fantasy plot elements focusing on a conflict between light and darkness over the Crystals. On May 30, 2012, it was announced the game would be localized as Final Fantasy Dimensions for iOS and Android.
In November 2014, Square Enix announced a new Final Fantasy Dimensions game titled Final Fantasy Legends: Toki no Suishō where soundtracks from the original game were incorporated. No localization has been announced. In November 2016, following the conclusion of the game's first storyline, Square Enix rebranded Final Fanasy Legends: Toki no Suishō to Final Fantasy Legends II. (more...)
This week's featured image
Screenshots of food at camp and the Sky System from Final Fantasy XV, demonstrating the graphical power of Luminous Engine 2.0. Luminous Engine 1.0 was first unveiled in 2011 with the tech demo Agni's Philosophy; this engine was later used for Final Fantasy XIV and its expansions, though not to the same power; Agni's Philosophy requires 1.8 GB of data per scene, which would not be feasible in a game as large as XIV. However, XV revolutionizes the graphical capacity of the series: a typical character model in Final Fantasy XIII used 20,000 polygons, but XV uses 20,000 for just the hair alone (which is designed by a professional hair stylist on a mannequin and then translated into in-game models).
Two examples of the graphical realism of Luminous Engine are shown here. First, on the left, we have mashed potatoes and cake that Ignis Scientia prepared at camp. In XV, the strongest monsters come out at night, so it useful to set up camp and rest overnight rather than attempt to continue to fight. In camp, Ignis prepares food that will grant the party status buffs, determined by which ingredients are in the party inventory. At the time of writing, it is unknown what ingredients and status elements are tied to mashed potatoes.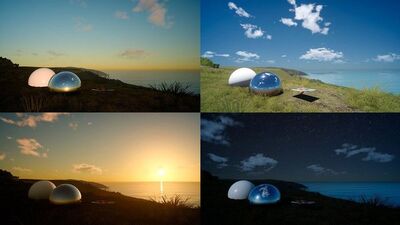 On the right, four screenshots demonstrate the power of the Sky System, software used to indicate the coming of night. In particular, photographs of Earth's sky were used to generate the lighting effects in game; unlike earlier games, where day-night cycles occur at set time intervals, cycles in XV occur continuously.
It is morbidly amusing to note that Naoki Yoshida noted that one of the main reasons for XIV 1.0's failure is the emphasis on graphical fidelity rather than gameplay and story, but we withhold judgement on the success or failure of XV until everyone has actually completed the game. And unlike XIV 1.0, XV has already sold five million copies.
Site notice
Check out our podcast feature, where we discuss upcoming games! Watch parts to learn new things, or the whole thing for insight! Latest podcast is Episode 2: FFXV-stravaganza (1:23:37)

Feel free to come watch our
Let's Play
!
We are affiliated with many other Square Enix websites!
JRPG Games
Go to these sites for info or for help with your own wiki!
Atelier • Breath of Fire • Chrono • Disgaea • Dragon Quest • EarthBound • Etrian Odyssey • Fairy Fencer F • Final Fantasy • Golden Sun • Grandia • Hyperdimension Neptunia • Hyperdimension Neptunia • Japanese PC Games • Kingdom Hearts • Megami Tensei • Mugen Souls • Parasite Eve • Phantasy Star • Pokémon • Radiant Historia • SaGa • Suikoden • Valkyria Chronicles • Valkyrie Profile • The World Ends With You • Xenoblade • Xenosaga • Yo-Kai Watch
Want your community included? See how!