Home
18,014 pages on
this wiki
Talk

793
Welcome to the Final Fantasy Wiki,
a Final Fantasy database that anyone can edit.


Started on March 13, 2005, the wiki currently has

18,014

articles.

Spoilers are appropriately enclosed in spoiler tags. See our spoiler policy for details.
- - - -
The Final Fantasy Wiki's Featured Article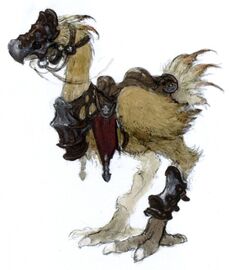 The Chocobo Theme is a recurring theme throughout the Final Fantasy series, originally composed by Nobuo Uematsu for Final Fantasy II. It has since been used in a different musical style for every Final Fantasy game that has a Chocobo in it. Notably, Mambo De Chocobo (from Final Fantasy V was the first theme in the series to ever use a vocal sample in it. (More)
This Week's Featured Image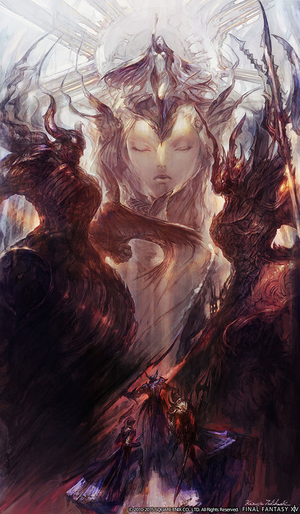 Artwork of the Warring Triad from Final Fantasy XIV. The Warring Triad are a trio of Primals bound by the ancient Allagan Empire in the floating continent of Azys Lla. During the main questline of the expansion Heavensward, Thordan VII, current leader of Ishgard, attempts to absorb the power of the trapped Warring Triad to become a god-king that can bring an end to all war and conflict. While the Warrior of Light was able to kill him before this happened, Thordan's actions began to awaken the Triad, a plot point that will presumably be followed up on in future content for the game.
The Warring Triad is a direct reference to the deities from Final Fantasy VI. Azys Lla serves as the Floating Continent, and Thordan's plan to become a god is reminiscent of Kefka's, though with a different objective in obtaining this power.
The Final Fantasy Series
Main Series

Collections

Compilations

Sequels

Movies

Novels/Novella

Audio Dramas

Animated Media

Related Titles

Final Fantasy VII

Final Fantasy XI

Final Fantasy XIV

Fabula Nova Crystallis

Ivalice

Crystal Chronicles

Dissidia

Theatrhythm

Chocobo Series

Spin-offs
Final Fantasy Wiki Network
Currently fighting at the arena...



Go on and get voting! Also, suggest a fight!

Final Fantasy Almanach

Sardapedia

The Chrono Compendium

Chronopedia
Other gaming wikis


Kingdom Hearts • Final Fantasy TCG • Final Fantasy XI • Final Fantasy XIV • Final Fantasy Answers • World of Warcraft • Warhammer Online • Star Ocean • Mana • Dragon Quest • The World Ends with You • The Last Remnant • Lost Odyssey • Disgaea • Legend of Zelda • Tales • Megami Tensei • More...
The upcoming Let's Play project is Final Fantasy V, hosted by Hexedmagica. Join Hexed and the FFWiki as we go on our journey through the game with jobs, Gilgamesh, awesome chocobo themes, and Butz.
You can view all episodes here.
Episode 10 now up!
Upcoming FFV LP episodes SOON (tm).