Home
19,555 pages on
this wiki
Talk

799

Welcome to the Final Fantasy Wiki,
the Final Fantasy resource that anyone can edit.
Started March 13, 2005, the wiki has more information than Cid could research!
Spoilers are appropriately enclosed in spoiler tags. See our policy for details.
The Final Fantasy Wiki's Featured Article
Only the chosen may enter that land. The chosen will touch all creation, and obtain that which is truth. It is reason outside of reason—the reason of Agito. It is power—the authority of Agito. The sage proclaims: 'In all things, there is meaning. In all things, mourning will end. Make your choice: will you choose reason, or the power of kings?'
And unto him, I reply: 'I will become Agito. I will sound the knell to shake all the world. When nine and nine meet nine, the depths of reason shall stir. When the seal of creation is broken, a voice like thunder shall sound, and thou shalt know—we have arrived.'
—The Nameless Tome 14:7
Agito (アギト, Agito?) is a term from the world of Orience in Final Fantasy Type-0 and its prequel Final Fantasy Agito. The Agito is a messiah prophesied in ancient mythology to appear at the time of Tempus Finis, an apocalyptic calamity. The legend of the Agito is written in the Nameless Tome. (more...)
This Week's Featured Image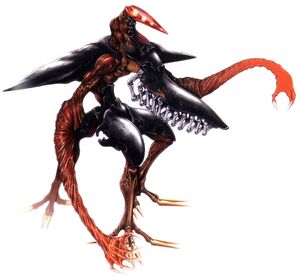 Concept artwork of a Propagator from Final Fantasy VIII. Eight Propagators spawn in four different colors, two for each color, throughout the Ragnarok: purple, green, gold, and red, though to the knowledge of the Final Fantasy Wiki, only concept artwork of the red Propagator exists. These space monsters must be killed in pairs to keep them from respawning. According to Scan, they are extremely violent creatures that attack anything that moves. There are also notes on the ship left behind by its previous crew that speak of a "Propagator infection", which suggests that the Propagators somehow boarded the ship and slaughtered the crew seventeen years ago, likely as they were attempting to return home after imprisoning Sorceress Adel in outer space. Perhaps, because they are an "infection", they are morphed humans; perhaps they were somehow byproducts of the Lunar Cry in Trabia. Propagators reappear in Final Fantasy Record Keeper, where they must be fought two at a time, just like in VIII.