Home
19,807 pages on
this wiki
Talk

799

Welcome to the Final Fantasy Wiki,
the Final Fantasy resource that anyone can edit.
Started March 13, 2005, the wiki has more information than Cid could research!
Spoilers are appropriately enclosed in spoiler tags. See our policy for details.
The Final Fantasy Wiki's Featured Article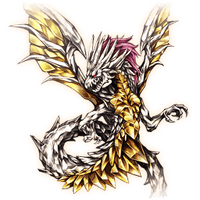 An ancient dragon dwelling in the Dimensional Rift. A massively strong will once consigned it to a certain task, but all details are unknown. It often rains devastation on those who would destroy it, causing even gods to fear its strength.
—Dissidia description.
Shinryu (しんりゅう, Shinryū?) is a powerful entity and enemy exclusive summon in Dissidia Final Fantasy and Dissidia 012 Final Fantasy. Originally appearing as a superboss in Final Fantasy V, Shinryu is a summon used by Chaos and the only one that cannot be controlled by the player. It also plays a role in the story as the facilitator of the cycles of war. (more...)
This Week's Featured Image
Promotional artwork of some of the cast from Dissidia Final Fantasy Opera Omnia. Opera Omnia is a turn-based sequel to the 2008 fighting game Dissidia Final Fantasy, set to be released later this year and featuring an expanded cast, which befits the title, which translates to "complete works". This artwork depicts the Warrior of Light from I, Terra from VI, Cloud and Yuffie from VII, Vivi from IX, Yuna fromX, Vaan from XII, Hope from XIII, Y'shtola from XIV, and Rem from Type-0. Of these, Yuffie, Vivi, Hope, and Rem are new to the Dissidia series.
Dissidia has always had conflict and chaos as a central theme — its title translates to "discord", after all — and the moody background and the anger of the characters reflects this; contrast comes from the humorous chibi art style and Yuffie's grin.
I always thought this planet was so huge. But lookin' at it from space, I realized it's so small. We're just floatin' in the dark. ......kinda makes you feel powerless. On top of that it's got Sephiroth festerin' inside it like a sickness. That's why I say this planet's still a kid. A little kid sick and trembling in the middle of this huge universe. Someone's gotta protect it. Ya follow me? That someone is us.

―
Cid
,
Final Fantasy VII