Welcome to the Final Fantasy Wiki,
the Final Fantasy resource that anyone can edit.
Started March 13, 2005, the wiki has more information than Cid could research!
Spoilers are appropriately enclosed in spoiler tags. See our policy for details.
The Final Fantasy Wiki's featured article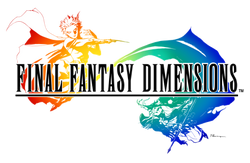 Final Fantasy Dimensions (ファイナルファンタジー レジェンズ 光と闇の戦士, Fainaru Fantajī Rejenzu Hikari to Yami no Senshi?, lit. Final Fantasy Legends: Warriors of Light and Darkness) is a Final Fantasy game for mobile devices. It is an episodic game, released starting in September 2010 on the i-mode distribution service and winter 2010 for the EZweb distribution service. Final Fantasy Dimensions features 2D graphics and a job ability system, and returns to classic Final Fantasy plot elements focusing on a conflict between light and darkness over the Crystals. On May 30, 2012, it was announced the game would be localized as Final Fantasy Dimensions for iOS and Android.
In November 2014, Square Enix announced a new Final Fantasy Dimensions game titled Final Fantasy Legends: Toki no Suishō where soundtracks from the original game were incorporated. No localization has been announced. In November 2016, following the conclusion of the game's first storyline, Square Enix rebranded Final Fanasy Legends: Toki no Suishō to Final Fantasy Legends II. (more...)
Featured image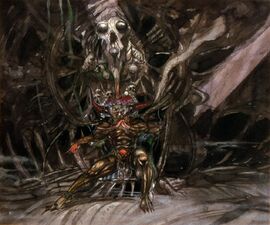 Artwork by Yoshitaka Amano depicting Chaos, the original Final Fantasy's final boss. Chaos would not make another appearance under this guise until the release of Dissidia Final Fantasy, in which, opposed to the goddess Cosmos, he would reprise his role as the final villain of the game.
Yet I beg you, do not surrender to despair. Have faith, for our gods watch over us. By their blessing, by the Stars that light the heavens above, our world will be delivered from the perils of the dark.

―
Lunafreya Nox Fleuret
,
Final Fantasy XV
We are affiliated with many other Square Enix websites!
JRPG Games
Go to these sites for info or for help with your own wiki!
Aselia • Atelier • Battle Chasers: Nightwar • Blade and Soul • Breath of Fire • Chrono • Devilian • Disgaea • Dragon Quest • EarthBound • Etrian Odyssey • Final Fantasy • Golden Sun • Hyperdimension Neptunia • Kingdom Hearts • Mana / Seiken Densetsu • Megami Tensei • Parasite Eve • Phantasy Star • Pokémon • Riders of Icarus • Star Ocean • Suikoden • Valkyria Chronicles • The World Ends With You • Xenoblade • Xenosaga • Yo-Kai Watch • Ys
Want your community included? See how!