Home
18,960 pages on
this wiki
Talk

799

Welcome to the Final Fantasy Wiki,
the Final Fantasy resource that anyone can edit.
Started March 13, 2005, the wiki has more information than Cid could research!
Spoilers are appropriately enclosed in spoiler tags. See our policy for details.
The Final Fantasy Wiki's Featured Article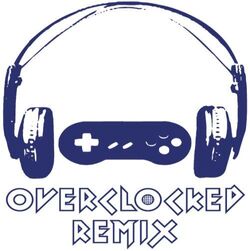 OverClocked ReMix is an organization dedicated to the appreciation, preservation, and interpretation of video game music that was founded in 1999. Its primary focus is ocremix.org, a website featuring thousands of free fan arrangements, information on game music and composers, resources for aspiring artists, and a thriving community of video game music fans.
Currently, OCRemix has over 2,700 rearrangements of various video game tracks, remixed by over 1,100 artists. This total collaborative effort gives a wide selection of different genres to enjoy. In all, over 200 Final Fantasy tracks have been mixed, from both main series games and spinoffs. Many among these tracks were released in complete, multi-disc albums, as part of large projects OCRemixers collaborate upon en masse. Thus far, OCRemix has released four such albums (for Final Fantasy VII, Final Fantasy IV, the first of a five-part Final Fantasy V album, and Final Fantasy VI). (more...)
This Week's Featured Image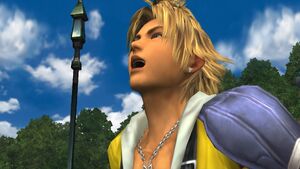 Screenshot of Tidus laughing from Final Fantasy X. Tidus is distressed, and Yuna tells him to practice smiling when he feels sad. Tidus forces himself to laugh, much to the bemusement of Yuna and her Guardians. Though the laughter is first awkward, unrealistic, and even painful to listen to, eventually Yuna joins in and it becomes real, though Wakka observes, "We were worried you guys might have just gone crazy."
This scene is often ridiculed by detractors of the game as an example of bad voice acting, while fans of the game argue that the awkward but endearing incident allowed Tidus and Yuna to resolve tension and improve their relationship. Whatever the case, this scene can be viewed in the Final Fantasy X/X-2 HD Remaster, recently released on Steam.
Community Portal
Currently fighting at the arena...



Go on and get voting! Also, suggest a fight!

The last finished Let's Play project is Final Fantasy V, hosted by Hexedmagica. Join Hexed and the FFWiki as we go on our journey through the game with jobs, Gilgamesh, awesome chocobo themes, and Butz.

You can view all episodes here.
Episode 18 (Finale) updated 01/03/16
Upcoming FFV LP episodes MAYBE.
There was never any competition for me back in Class Second, but it's hard not to lose confidence on missions with you guys. I'm constantly reminded of how much more work I have to do. If only I were stronger—like the l'Cie. I would be unstoppable with that kind of power...but would it really be worth sacrificing my humanity?

―
Machina Kunagiri
,
Final Fantasy Type-0