Welcome to the Final Fantasy Wiki,
the Final Fantasy resource that anyone can edit.
Started March 13, 2005, the wiki has more information than Cid could research!
Spoilers are appropriately enclosed in spoiler tags. See our policy for details.
The Final Fantasy Wiki's featured article
Final Fantasy Dimensions (ファイナルファンタジー レジェンズ 光と闇の戦士, Fainaru Fantajī Rejenzu Hikari to Yami no Senshi?, lit. Final Fantasy Legends: Warriors of Light and Darkness) is a Final Fantasy game for mobile devices. It is an episodic game, released starting in September 2010 on the i-mode distribution service and winter 2010 for the EZweb distribution service. Final Fantasy Dimensions features 2D graphics and a job ability system, and returns to classic Final Fantasy plot elements focusing on a conflict between light and darkness over the Crystals. On May 30, 2012, it was announced the game would be localized as Final Fantasy Dimensions for iOS and Android.
In November 2014, Square Enix announced a new Final Fantasy Dimensions game titled Final Fantasy Legends: Toki no Suishō where soundtracks from the original game were incorporated. No localization has been announced. In November 2016, following the conclusion of the game's first storyline, Square Enix rebranded Final Fanasy Legends: Toki no Suishō to Final Fantasy Legends II. (more...)
Featured image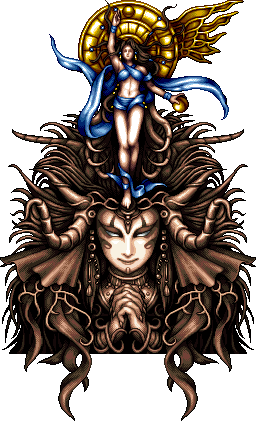 Sprite of Goddess from the iOS release of Final Fantasy VI. The center member of the Warring Triad, Goddess embodies Lightning and uses attacks such as Thundaga and Flash Rain. Uniquely among the Triad, the party faces her in a side-attack, and she has the lowest HP of the three. However, the Goddess is not to be underestimated, and is in fact the strongest member of the Triad. When the Goddess is damaged eight times in any way, she uses her trademark attack Cloudy Heaven. Cloudy Heaven inflicts Doom on the party, but also adds a permanent effect that lasts for the rest of the battle where any party member that would be KO'd, by the Doom timer or in any other way, becomes a Zombie instead of being KO'd. Upon her defeat, the Goddess drops the weapon Excalibur.
The Goddess served as the inspiration for Yunalesca's design in Final Fantasy X. Yunalesca's second and third forms depict her perched atop a giant Medusa-like head of tentacles similar to the Goddess, and she similarly uses Hell Biter to inflict Zombie on the party. In her official artwork Yunalesca also strikes the same pose as the Goddess.
We are affiliated with many other Square Enix websites!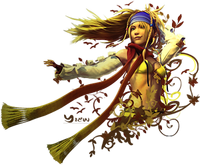 JRPG Games
Go to these sites for info or for help with your own wiki!
Aselia • Atelier • Battle Chasers: Nightwar • Blade and Soul • Breath of Fire • Chrono • Devilian • Disgaea • Dragon Quest • EarthBound • Etrian Odyssey • Final Fantasy • Golden Sun • Hyperdimension Neptunia • Kingdom Hearts • Mana / Seiken Densetsu • Megami Tensei • Parasite Eve • Phantasy Star • Pokémon • Riders of Icarus • Star Ocean • Suikoden • Valkyria Chronicles • The World Ends With You • Xenoblade • Xenosaga • Yo-Kai Watch • Ys
Want your community included? See how!