Final Fantasy Tactics A2: Grimoire of the Rift
18,487 pages on
this wiki
Talk

106
One is fated to fill these barren pages. Know you his name?
—Written on the Grimoire of the Rift
Final Fantasy Tactics A2: Grimoire of the Rift is the Nintendo DS sequel to the Game Boy Advance Strategy Role-Playing Game, Final Fantasy Tactics Advance.
A brand new region of Ivalice is used for Final Fantasy Tactics A2: Grimoire of the Rift, with the game taking place in Jylland, at the junction of two landmasses, one of which is far-western Ordallia. The Job system from Final Fantasy Tactics Advance returns, with Action abilities, Reaction abilities, and Passive (Support) abilities.
Abilities can be learned from various weapons, armor, and accessories, which can be obtained through the bazaar. The Laws System has been slightly revised. For example, restrictions, like "not moving three spaces", are set up in the beginning of an engagement, but the player can also select a beneficial clan privilege such as Speed↑.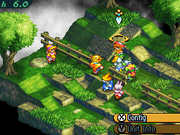 As well, breaking these laws no longer sends the player's characters to jail, but instead negates whatever clan privilege the player set for the battle and also restricts them from reviving any fallen allies. To top it off, upholding the law through the entirety of a battle will net the player extra items as a bonus. Combos however, have been removed from the game, as well as the mythril weapons from which they are learned. Units can now perform actions in water, other than moogles and nu mou, who cannot enter water unless they have Winged Boots equipped.
The game has many traits from Tactics Ogre, like MP starting from 0 and gaining treasure after defeating a foe. Unlike Final Fantasy Tactics Advance, slanted terrains are available.
Races and Jobs
Edit
See also: stat growth
The Jobs available for them are:
Moogles: A fluffy pom-pom and bat-like wings set this race apart. Their small stature lends itself to leaping out and surprising people, in which they take great delight. With tiny and nimble hands, moogles excel at a number of unusual Jobs.
The Jobs available for them are:
Viera: Members of this tall race with hair of spun silver are often called People of the Wood or Wood People. Viera are lithe of limb and tremendously quick. Their slender bodies grant superior strength and skill.
Viera Jobs are:
Bangaa: Scales cover the bodies of this reptilian race. Muscled and powerful, bangaa are physically imposing. Their rough, bellicose temperament leads them to pursue mainly warrior-like Jobs.
Their Jobs are mostly physical:
Nu Mou: With a dog-like face and ears that drag along the ground, there is no mistaking a nu mou. Extremely intelligent, they make for powerful mages, but their frail bodies are ill suited for physical combat.
Due to their high intelligence, they are suited to magic-related Jobs:
Seeq: A portly, porcine race with stubby legs, one would not expect a seeq to be quick, yet few can match their speed. Though dim-witted and unscrupulous, their knowledge of battle is formidable.
Their Jobs are:
Gria: Wings of a dragon and powerful tail distinguish this unique race. Outwardly small, some may even say cute, gria make vicious foes in battle. They have a fierce and competitive spirit.
Their Jobs are:
Special Jobs
Main article: Final Fantasy Tactics A2: Original Soundtrack
Final Fantasy Tactics A2: Original Soundtrack is the soundtrack of the game. Composed by Hitoshi Sakimoto and joined by other composers under Basiscape, the soundtrack reused several music from Final Fantasy Tactics Advance and Final Fantasy XII, with several new and original themes.
Packaging Artwork
Edit
External links
Edit