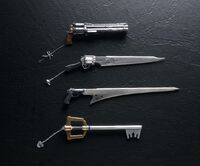 The Final Fantasy Master Arms are a series of scaled weapon replicas licensed by Square Enix.
As of May 2007 the models consisted of Cerberus (15cm (5.90") length), the Revolver (23cm (9.05") length), the Hyperion (26cm (10.23") length) and the Kingdom Key (18cm (7.08") length). There is also a limited issue "Kingdom Key Darkside" which is based on King Mickey's Kingdom Key D.

The Revolver and the Hyperion has a functioning hammer and trigger. In addition, the Revolver and the Cerberus's loading cylinders can be opened to reveal bullets in the stock.
The materials used in creating the replicas were ABS (Acrylonitrile butadiene styrene), PVC (Polyvinyl chloride), and metal Die Casting. The blades on the two Gunblades are made of a metal alloy but don't have sharp edges. The points of the blades are sharp however.
A custom stand is included with each model for display purposes.