Final Fantasy IX
18,470 pages on
this wiki
Talk

57
Final Fantasy IX is the ninth installment in the Final Fantasy series, released by Square in 2000. It is directed by Hiroyuki Ito and co-produced by Hironobu Sakaguchi and Shinji Hashimoto. It is the third and last Final Fantasy in the main series to be produced for the PlayStation. Unlike Final Fantasy VII and Final Fantasy VIII, Final Fantasy IX was not immediately ported to the PC. A Steam version is scheduled for release in early 2016. On April 2nd, 2010, it was announced on Twitter that Final Fantasy IX would be added to the PlayStation Network, and was released for PSN on May 20th, 2010 for Japanese players, May 26th, 2010 for European and Australian players, and on June 15, 2010 for North American players.
After two Final Fantasy installments that featured an increasing sci-fi slant, Final Fantasy IX was intended to return the series, at least temporarily, to its more fantasy-oriented roots. The characters, who had been depicted in an increasingly realistic fashion in previous Final Fantasy games, were deliberately rendered more cartoonish. Among the most notable Final Fantasy traditions is the presence of black mages, represented foremost by the playable party member Vivi.
Final Fantasy IX was announced and developed in tandem with Final Fantasy X and Final Fantasy XI. This three-pronged marketing effort was intended to provide gamers with the promise of three upcoming games of varied style and gameplay: an intentionally retro RPG in Final Fantasy IX, a smoother evolution in style and design in Final Fantasy X, and an online experience in Final Fantasy XI.
On December 31, 2015 Square Enix announced the game will be ported to iOS, Microsoft Windows via Steam, and Android.[2]
Gameplay
Edit
In the field, the player typically controls the main character, Zidane. When he passes a point of interest, a ! or ? bubble appears above his head, and the player can press
to interact with the object. As the game progresses, different methods of traveling across the world become available, such as chocobo, boat and airship.
Levels and abilities
Edit
Party members level up by accumulating experience points from regular enemies; bosses yield no EXP. New abilities are learned by equipping an item that can teach it and gaining ability points to learn it permanently, reminiscent of the esper system in Final Fantasy VI. However, in Final Fantasy IX abilities can be used even before they have been learned.
Abilities can be learned faster by equipping multiple pieces of equipment that teach the same ability; e.g. Zidane will learn Long Reach twice as fast if he equips both Thief Hat and Protect Ring simultaneously. The effect is boosted further by using the Ability Up ability.
There are two types of abilities: "Action" and "Support". Action abilities include techniques like magic, weapon skills and calling eidolons. Support abilities have beneficial passive effects, such as resistance against status effects and increased damage to certain enemy types.
A limited amount of support abilities can be equipped at one time, governed by Magic Stones. Each support ability requires a certain number of Magic Stones, and more stones can be gained by leveling up. Many abilities can be learned by most of the cast, but some are exclusive.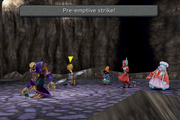 Following the tradition started by Final Fantasy IV, the game utilizes the Active Time Battle system. When a character's ATB gauge is filled, they can choose a command to execute. Normally, enemies attack whenever their turn is up, but the battle can be set to "Wait" mode, making the enemy unable to perform while players are choosing a spell or an item from the menu.
In Final Fantasy VII and Final Fantasy VIII, the player was restricted to three-person parties. In Final Fantasy IX, this is changed to the classic four-person party. The game allows for two players to control members chosen by the player in the battle.
Zidane is in the player's party most of the time. His Steal skill is very useful, since many pieces of equipment are available first as steals from bosses before being purchasable from vendors.
Continuing the tradition started in Final Fantasy VII, the game incorporates Limit Breaks, although differently from earlier Limit Break systems. When a character sustains hits in battle, the Trance gauge is filled and when full, the character enters Trance. Trance changes the character's appearance, and gives them a new skill or set of skills only usable while they are in Trance.
For example, if Zidane has learned the ability Flee for his Skills ability set, he gains the ability Free Energy for his Trance ability set, Dyne. Zidane is the only character to use new abilities in his Trance; most characters' abilities are enhanced, for example, Vivi gains Double Black, which allows him to cast two Blk Mag spells in succession, and while in Trance, Steiner's strength is boosted.
Character classes
Edit
While not explicitly stated, each party member has a job based on previous Final Fantasy games. For example, Zidane is a Thief, Amarant is a cross between a Ninja and a Monk, and Quina is a Blue Mage.
This is yet another return to tradition from the recent predecessors of Final Fantasy IX, in which characters were largely blank slates to be heavily customized by the player. In Final Fantasy IX the emphasis is on building an effective team of characters whose strengths and weaknesses balance one another.

Active Time Events
Edit
Another new aspect of Final Fantasy IX are Active Time Events (ATE). When an ATE window appears the player can press

to see what the other characters are doing. Although watching an ATE might not always affect the main storyline, sometimes, when the notification text appears gray, the player will have to watch an ATE automatically. The player might gain items or gil by watching the ATEs. Sometimes, multiple choices for ATEs are given, and if one is picked, the other might not be able to be activated, meaning the player has to wait for a second playthrough to see it.
Within the game, Mognet is a postal system operated by moogles. As the player progresses they will find moogles inhabiting most of the known world. When the player talks to a moogle, they allow the player to save their game, restore life energy via Tents, or purchase items with Mogshop.
The moogle may also request that the player character act as a courier by delivering a letter to another moogle. It is also possible (albeit less frequently) that the player receives a letter from someone else.
Later on it is revealed the moogles are requesting the player to deliver letters because Mognet Central, where the letters are usually sorted, is having mechanical problems, and as a result, deliveries have become sporadic. The player may help the moogles restore Mognet Central's functionality in a sidequest.
Minigames and sidequests
Edit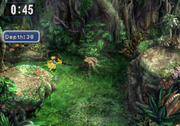 Final Fantasy IX has two main side quests that span a lot of the game: the Tetra Master card game that can be played with almost any NPC, and Chocobo Hot and Cold. The player can obtain their first Tetra Master deck and tutorial on how to play at the start of the game, and then keep challenging NPCs for games. New cards are also obtained as drops from enemies. The player must go out of their way to obtain the rarest cards in the game if they want to complete their deck.
Chocobo Hot and Cold can be played once the player meets up with Choco in Chocobo's Forest. There are different venues where the player can play the minigame to have Choco dig up random treasures and chocographs that can be used to dig up treasures on the world map. By discovering more chocographs the player can level up their chocobo to reach new areas with ever better treasures. Many of the game's ultimate equipment can only be obtained from these treasures.
Other minigames include frog catching where Quina must catch frogs on Qu's Marshes for rewards, the jump rope game Vivi and Eiko can play in Alexandria and the footrace game against Hippaul. The game has numerous sidequests from collecting rare key items, to encountering the friendly enemies and Ragtime Mouse on the field in random battles. Notoriously, the game had a sidequest that remained largely unknown and unnoted in guides for years until being discovered from the game's Ultimania guide, the Nero family sidequest in Lindblum.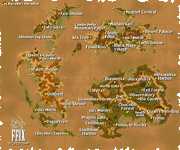 The world of Gaia is divided into four continents, the most populated one being the Mist Continent. Most of the sentient races have settled above the Mist that covers the bottom of the continent. Mist, its origins unknown, is a noxious gas that mutates flora and fauna alike into monsters, and hardens the hearts of men inciting strife among them. As sunlight penetrates the Mist poorly, the surface of the continent is left in perpetual shadow where monsters lurk. Thus, most people elect to live on the plateaus above the Mist and cross the lands in Mist-powered airships rather than on foot.
There are four major kingdoms on the continent: Alexandria, reigned by Queen Brahne Raza Alexandros XVI; the industrious Lindblum, governed by Regent Cid Fabool IX; the nation of the Dragon Knights Burmecia, reigned by the King of Burmecia; and the mysterious Cleyra hidden inside a perpetual sandstorm. Lindblum is the most technologically advanced nation of the four, and the inventor of Mist-powered airships that halted the wars that had plagued the continent for centuries.
Though shrouded in Mist and thus full of ferocious monsters, Mist Continent is the most lush continent on Gaia, the others being barren. The other continents are rarely traveled to, as they are free of Mist and thus out of the reach of airships. Outer Continent is an arid wasteland to the north, connected to the Mist Continent by the Fossil Roo, but only the dwarves are known to live there. Lost Continent, to the northwest, is almost entirely covered in ice, but houses the volcanic Mount Gulug and the religious center of Esto Gaza that reveres the legends of a Shimmering Island off the coast of the continent. The Forgotten Continent is a a large land in the west where the sun sets, with mysterious ruins scattering its landscape.

Characters
Edit
Final Fantasy IX is the last Final Fantasy game with music composed exclusively by Nobuo Uematsu. It was his most prolific score, as the original soundtrack has 110 tracks, and an additional soundtrack was released with 42 more. Years after its release, Uematsu has stated that both the score and the game itself are his favorite of all his projects.
Much of the music revolves around the themes of the J-pop ballad, "Melodies of Life", composed by Uematsu and performed by Emiko Shiratori. The song is sung in Japanese for the game's Japanese release, and in English for the game's North American and European releases.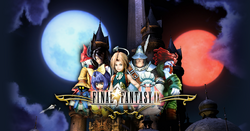 On December 31, 2015 Square Enix announced on the Final Fantasy Portal App that Final Fantasy IX is coming to PC, iOS, and Android. A new microsite for the game was published stating that the game will require iOS 7.0 or Android 4.1 or later.
A teaser trailer was released on Square Enix's YouTube channel, showing the game with improved graphics, anti-aliasing filtering, new menu, new battle user interfaces, new message dialogue windows, new sprites for Tetra Master cards, high-definition movies, and improved character models. Achievements, auto-save, and speed-boost option will be implemented.[3][4]
System Requirements
Edit
| | Minimum | Recommended |
| --- | --- | --- |
| OS | Windows Vista/7/8/8.1/10 | Windows 7/8/8.1/10 |
| Processor | Intel Core 2 Duo 2GHz | Intel Core i5 2520 2.5GHz or higher |
| Memory | 2 GB RAM | 4 GB RAM |
| Graphics | NVIDIA GeForce 8600GTS or ATI Radeon HD4650 | |
| DirectX | Version 11 | Version 11 |
| Storage | 20 GB | 20 GB |
| Sound Card | DirectSound® compatible sound card(DirectX®9.0c or later) | DirectSound® compatible sound card(DirectX®9.0c or later) |
Steam Trading Cards
Edit
Reception
Edit
According to Metacritic, Final Fantasy IX is the most critically acclaimed Final Fantasy game to date.[5][6] It is also the favorite Final Fantasy game of series creator Hironobu Sakaguchi.[7] At the PlayStation Awards 2001 held on 11 June 2001, Final Fantasy IX was awarded the "Double Platinum Prize". It also swept the PlayStation User Awards at the same event, beating Dragon Quest VII to walk away with the awards "Best Graphics", "Best Scenario", "Best Characters", and "Best Sound". The results of these User Awards were obtained by polling PlayStation users nationwide.[8][9]
Production credits
Edit
Executive Producers
Tomoyuki Takechi, Hisashi Suzuki
Conceived and Produced by
Hironobu Sakaguchi
Director
Hiroyuki Itou
Main Program
Hiroshi Kawai
Producer
Shinji Hashimito
Art Director
Hideo Minaba
Image Illustration
Yoshitaka Amano
Original Score and Music
Nobuo Uematsu
Event Design
Kazuhiko Aoki
Real Time Graphics
Akira Fujii
Battle Design
Yasushi Kurosawa
Battle Program
Takayuki Niwa
World Map Program
Tatsuya Yoshinari
World Map Graphics
Masahide Tanaka
Field Design
Mozomu Yamagishi, Takeshi Endo
Field Data
Hidetoshi Kezuka
Field Graphics
Shinichiro Okaniwa, Jun Sakurai, Kazuyuki Ikumori
Character Design
Shukou Murase, Toshiyuki Itahana, Shin Nagasawa
Character Modeling
Hiroshi Arai, Tomohiro Kayano
Character Animation
Jun Uriu, Tatsuya Kando
Computer Graphics Movie
Hiroshi Kuwabara
Sound Effects
Terukai Sugawara, Eiji Nakamura
Sound Program
Minoru Akao
3D Character Programmer
Thomas Shih-Ta Peng
Production Manager
Akira Kashiwagi
Project Manager
Kenji Takemoto
Publicity Producer
Michio Okamiya
SQUARE VISUAL WORKS CO., LTD.
Supervisor
Satoshi Tsukamoto
Director
Kiroshi Kuwabara
Manager
Norimichi Kurosawa
SQUARE SOUNDS CO., LTD.
Music
Nobuo Uematsu
Sound Programmer
Minori Akao
Production Manager
Kensuke Matsushita
Conductor
Koji Haijima
SQUARTZ LTD.
Executive Director
Hiromi Masuda
SQUARESOFT INC.
Localization Specialists/Staff
Ryosuki Taketomi, Maki Yamane, Brody Phillips, Richard Amtower, Matthew B Rhoades
Localization Assistant
Rika Maruya
Localization Manager
Yutaka Sana
QA Staff, Senior Manager
Jonathon Williams
Senior Lead Analyst
David Carillo
Lead Analyst
Jaime Bencia
Assistant Lead Analysts
Jeff Love, Chris Manprin
QA Translators
Dana Kwon, Kenji Nakamura, Rintaro Yoshida
Analysts
Aaron J. Adams, John Carroll, Bryan Chen, Kelly Chun, Mat Clift, Michelle Elbert, Mike Erickson, Aron Gutierrez, Eric Lee, Jonathon Mankin, Greg Melancon, Jennifer Mukai, Michelle Ng, Tam Nguyen, Nicholas Pisani, Terry Stone, Dan Vanderputt, Stephen Wong, Hugo Yeh
SQUARE ELECTRONIC ARTS L.L.C.
Senior Customer Service Manager
Rick Thompson
Customer Service Manager
Fernando Bustamante
Assistant Customer Service Manager
Alaine DeLeon
Senior Customer Support Representatives
Mark Abarca, Ryan Riley, Anthony Montana, Arec Nevers
Marketing Communications Manager
Kyoka Yamashita
Assistant Marketing Communications Manager
Francine DeMore
Product Coordinator
Ken Berry
Sales Coordinator
Sean Montgomery
Creative Services Manager
Keiko Kato
Creative Services Associate
Patrick Cervantes
Product Associates
Andy Hsu, Troy Boren
Product Administrative Assistant
Mari Nishikawa
Assistant Product Manager
Irene Sam
Product Manager
Andrew Shiozaki
Marketing Manager
Kenji Mimura
Vice Chairman
Yoshiro Maruyama
Senior Vice President
Kenzo Nogimura
President
Jun Iwasaki
Packaging/Manual Design
Beeline Group, Inc.
Special Thanks to
Beeline Group, BradyGames, Kenwood Group, Saatchi & Saatchi Los Angelas, Virtual Interactive, Kristopher Byrne, Charles Callistro, Jesse Cheek, Michael Christoffers, Scott Coventon, Roberta D'aprea, Justin Dornan, Jared Ellot, Reiko Fukuen, Ryan Gibson, Jason Haderlie, Natsu Ishigami, Takuya Ito, Drew Jennings, Terry Jung, Sonoko Kanayama, John Kim, Yoko Kondo, Yoshinobu Matsuo, Shigeto Matsushima, Hideaki Morishita, Haruko Nagata, Camilla Ortiz, Mayuu Salazar, Susan Stayer, Junko Takasawa, Mohammed Wright, Junichi Yanagihara, Hideo Yotsuya
Packaging artwork
Edit
Allusions
Edit
Final Fantasy IX was intended, in many ways, to be a salute to the series' history, and as such, is filled with allusions to previous games. One of the most apparent is the similarity of the character Vivi to the black mage from the original Final Fantasy.
Despite the overall high quality of the translation, care was not taken to ensure all of the various names and references matched to those used in the previous English-language releases. Thus, many of the references with which the game abounds are missed by the non-Japanese audience. Examples are listed in the main article.
A Final Fantasy IX remake for PlayStation 2 had been considered by Square in early 2001, only one year after the original release. For some reason, the project was either scrapped or never started development at all. Similar projects for Final Fantasy VII and Vagrant Story were also considered at one point, but met the same fate.
In May 2009, the video game website IGN interviewed Yoshinori Kitase and Takeshi Arakawa. During their discussion, Arakawa mentioned he desired to make a sequel to Final Fantasy IX more than any other game. [10]
Final Fantasy IX has the most diverse cast of characters in the series, as it has only three human beings (Steiner, Amarant and Beatrix) and all the other playable characters are part of different races.
Final Fantasy IX can have up to two players controlling the party during combat, even though the feature is not mentioned in the instruction manual.
Final Fantasy IX has the most number of allusions in Dissidia Final Fantasy. The biggest one is Mognet. It is also said in Dissidia that the peak of life of the moogles happened in Gaia.
The developers have stated they changed the ending seven times.[11]
To promote the release of Final Fantasy IX, Square joined forces with Coca-Cola to produce a Final Fantasy IX themed Coca-Cola television commercial.
External links
Edit
References
Edit