Final Fantasy Dimensions
18,947 pages on
this wiki
Talk

43
Final Fantasy Dimensions is a Final Fantasy game for mobile devices. It is an episodic game, released starting in September 2010 on the i-mode distribution service and winter 2010 for the EZweb distribution service. Final Fantasy Dimensions features 2D graphics and a job ability system, and returns to classic Final Fantasy plot elements focusing on a conflict between light and darkness over the Crystals. On May 30 2012 it was announced the game would be localized as Final Fantasy Dimensions for iOS and Android[2].
In November 2014 Square Enix announced a new Final Fantasy Dimensions game titled Final Fantasy Legends: Toki no Suishō where soundtracks from the original game were incorporated. It is unknown whether the game will be localized.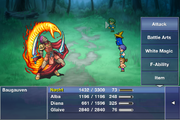 Final Fantasy Dimensions uses the Active Time Battle system. Like Final Fantasy IV: The After Years, the game is presented in an episodic format. Players command a maximum party of five with the party members changing in each episode.
Job system
Edit
The game uses a job system as a base of its battles. The jobs available after the prologue for the eight main characters are Jobless, Warrior, Monk, Thief, Red Mage, Black Mage, White Mage, and Summoner. Each episode introduces a new job, which is unlocked after completing the episode.
The exclusive jobs for the Warriors of Light are Dragoon, Bard, Memorist, Paladin and Seer. The Jobs unlocked for the Warriors of Darkness are Ranger, Dark Knight, Dancer, Ninja and Magus.
Similar to other titles with the job system, the jobs level up through the acquisition of Ability Points, however, each job is initially capped at level 3. For the player to further develop a job, they must increase the maximum Job Level available at any time through the use of Job Points that are given at set intervals as well as through exchanging Moogle Coins, although this is done only at the end of the game. Each party member is given a total of 69 Job Points through the game and each job has a maximum level of 20, therefore needing 17 Job Points to fully develop a job.
Once a job levels up, the party member learns abilities or increases the stats of that character for that Job. Abilities learned this way can allow a character to mix the abilities of some jobs, equipped using a number of slots available per each job, which increases at higher Job Levels.
Fusion Abilities
Edit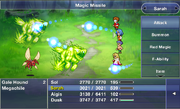 After reaching a certain point in the game, Fusion Abilities are unlocked. When there are two abilities which can produce a new ability, the ability can be used during the battle. All Fusion Abilities cost MP.

Characters
Edit
Playable characters
Edit
Warriors of Light
Edit
Sol: A boy from the small country of Lux, he is childhood friends with Diana and dreams of becoming a soldier of the Avalon Empire and flying an airship.

Sarah: A mysterious, quiet girl from the Kingdom of Burtgang who has been taken captive by an imperial airship.

Aigis: Sol's mentor and Diana's older brother, he is a hero of the country of Lux. He has departed on an expedition but later runs into Sol and Diana.

Dusk: A young, serene man from the Harmonia refugee camp, with many contacts across the world. Twin brother of Alba.

Warriors of Darkness
Edit
Nacht: A young man from the Harmonia refugee camp who lost his parents in the war, and has acted cold and distant ever since. His hometown is likely Falgabard and his father the fallen Dark Knight Sigurd.

Diana: A young girl with a strong spirit, she is Sol's friend but is more levelheaded and treats Sol like a child. Aigis is her only surviving family.

Alba: Dusk's twin sister, who is a stark contrast to her brother and jokes around no matter the situation.

Glaive: A childhood friend of Sol and Diana, he looks out for both of them, but he and Sol often duel to test their sword skills.

Elgo: A prophet and Red Mage watching over a Crystal's shrine, he joins the party for a period of time between Northern Cave and Crystal Temple and is seemingly killed by Baugauven while trying to protect Sol.

Barbara: A woman who is the sole surviving Dragoon of Deist Village. Alone in the world, she was raised in the wild by wyverns following the disappearance of her father, Abel. She stalks Sol in the Valley of Wyverns and makes several attempts to halt his progress, but eventually joins him and his companions.

The Mysterious Old Man: An old, blind Ranger that Nacht and his party meets. In truth he is Frey, the elven king of Alfheim who sacrificed his eyesight to save his wife and children. He's murdered by Asmodai.

Eduardo: A Bard who lost his family and traveled the world to refine his skills, he returns to his hometown, Rusalka, when Sol and his friends pass through, and seeks a mysterious mermaid from the Underwater Temple. Styx places a curse upon him, transforming him into a frog.

Graham: A sinister Dark Knight from Falgabard encountered by the Warriors of Darkness. He poses as the ghost of the slain Dark Knight Sigurd, clad in his armor and carrying his sword. He is named after the sword Sigurd used to slay Fafnir, from Norse mythology.

Argy: A living doll befriended by Sol and his friends. She has a child-like personality and damaged memory, but her true identity is that of "RG Model-0", a robotic prototype designed by Dr. Lugae, who seeks to create the perfect weapon for the Empire.

Matoya: A Dancer who performs at the Garden Garden pub in the town of Gardenia and is a spy from the Desert Moon resistance group.

Gawain: A drunkard Paladin who knew Sarah's past before he meets her again along with her friends. He is named after one of the knights of the round table.

Jinnai: A one-armed Ninja who is one of the strongest warriors of the island nation of Fuga.

Sophia: A young Seer of Mysidia who helps out the Warriors of Light.

The Mask: A mysterious masked Magus who is encountered by the Warriors of Darkness.

The prologue was released on Apple's App Store on August 31, 2012. The game was released on Google Play on December 21st, 2012.
Final Fantasy Dimensions has been downloaded from the iTunes Appstore over a million times.[3]
Allusions
Edit
Final Fantasy Dimensions makes references to the rest of the Final Fantasy series, as well as some references to mythology, anime and manga, other games, literature, and music, among others.
Many of the names, towns and plot elements are taken from the earliest Final Fantasy games. For example, Bikke, Matoya and the land of the elves are all nods to the original Final Fantasy, while both the dragoon Ricard and the kingdom of Deist first appeared in Final Fantasy II, and Dr. Lugae and Kokkol are characters from Final Fantasy IV.
The name Avalon comes from the empire of the same name from the Squaresoft game Romancing SaGa 2.
The names of the main protagonists are a play on day, night, and twilight.
The game makes several comical allusions to Final Fantasy VII. Freyr was initially going to portray himself as "Clo.." while getting a reply from Alba with "And I'm Aer...", referencing Cloud Strife and Aerith Gainsborough respectively. Furthermore, when the Warriors of Darkness discuss the Meteo spell, Alba asks The Mask if he "does not mean to summon a meteor so that the lifestream comes together and you can be reborn as a god", referencing the actions of Sephiroth.
References
Edit
External links
Edit