FFBE
White Mage:

Life's refreshing breeze, blow in energy! Cure!

This article can be improved in areas such as grammar, style, formatting, and spelling.
Please refer to the

Manual of Style

or

Editing Help

to get started.
Cid:

Oh, shut up and help me remodel the Final Fantasy Brave Exvius page!

Please expand this article into a full one . This request can be discussed on the associated discussion page. Remove this notice upon completion.
Final Fantasy Brave Exvius is a free-to-play role-playing game developed by A-Lim, creator of Brave Frontier and published by Square Enix for iOS and Android devices.[1] It features characters that have appeared in previous games, such as Cecil Harvey, Shadow and Exdeath.[2] The game was in closed beta testing for the Japanese audience until September 2, 2015.[3] It is very popular in Japan, with over 6 million downloads as of March 28, 2016.[4]
The English version was soft-launched on Swedish app stores for iOS & Android on May 11, 2016.[5] It was released to all mobile device app stores on June 29, 2016. As of March 1, 2017, the global version has surpassed 20 million unique installs.
On May 16, 2016, Square Enix launched a massive registration drive[6] for the global game, offering in-game rewards to players who participated. With over 10 million Crystal Points earned during the campaign, the first five rewards tiers and one bonus rewards tier were available to all players until July 17, 2016.
On September 8, 2017, Square Enix released a spin-off game named Final Fantasy Brave Exvius Tap! for Facebook.[7]
Gameplay
Edit
The world map is presented as a series of fixed contact points, with a fixed set of dungeons (battles) located in each area. The player must fight through all of the battles in a given dungeon, expending associated energy per round, to unlock and advance to the next dungeon. Clearing all required dungeons (indicated by their crimson banners) will advance the story to the next waypoint.
Towns and dungeons that are already cleared may be freely explored (as indicated by green banners) or replayed if desired. In free exploration mode, the player can traverse a given area for treasure and other items, but will also encounter random monsters. Entrances and exit points are marked on each area map: yellow for individual rooms and stairs, green for the entrance, and red for the exit.
Battle system
Edit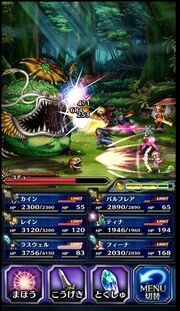 Brave Exvius uses a turn-based combat chain system that is thus far unique among series titles. This is attributed to the A-lim company's involvement, as a similar chaining system is implemented in their game, Brave Frontier. The player may select a party of up to five units and a guest unit to deploy in battle, each with his or her own unique skill sets. When in battle, the player can select actions for the units to perform by swiping the units' panels in different directions. With an action selected, tapping a unit's panel will immediately execute the chosen action. If the player taps panels in succession, the action creates a chain. The player is also allowed to strike multiple targets in the same turn, with actions against each also creating a chain. Enemies can do the same during their turns, so preparing a strategy turn-to-turn is critical to success. It is also important to note that since every character's attack animation speed is different as well as the number of hits involved, timing when each unit should strike is crucial to chaining accurately.
Winning a battle does not have immediate rewards as in typical Final Fantasy games. Instead, all items collected and all EXP gained are tallied at the end of a story battle round, or at the end of a free expedition.
Other modes
Edit
The Vortex
Edit
An entire second realm known as the Vortex appears, with three different modes of play:
The Vortex of Desires is a side area containing four different Chambers, which the player can battle through to obtain large amounts of Gil, character EXP, crafting materials or awakening materials. Every day, one Chamber of the player's choice can be opened at no cost, while unlocking others during the same day requires 100 Lapis per dungeon.
The Vortex of Trials is a series of single-level dungeons containing very powerful bosses, which can be challenged at the player's discretion. Rewards such as high-end equipment can be obtained for defeating these bosses the first time.
Free events are periodically announced that may improve the player's chances of receiving rare items that help improve unit development. To date, these events include the Gil Snapper's Cave, Cactuar Dunes, and the Chamber of Crystals. These events are open for a predetermined period of time, but offer greater rewards than standard Vortex play offers.
The Arena
Edit
Also available is the Arena, a mode of play where players can test their skills against other players, or against enemies previously fought. Players may fight in single combat against a group of foes up to five times in succession before needing to regenerate at hourly intervals.
Colosseum
In Colosseum combat, each contest has a point value, and when a round reaches its point limit, players will encounter a boss. Defeating the boss allows the player to win prizes and advance to the next round. Winning all rounds will move the player up one Colosseum rank.
Characters
Edit
Visions—Storied heroes whose dreams transcend even death

Lapis—A world of crystals and the visions within

By the light of the crystals, a realm flourished. But now, a shadow falls...

Their world on the edge of ruin, two knights set out to drive back the shadows...

Let a new tale of crystals and heroes begin!

Crystals, heroes and high adventure

As legendary warriors join forces across time and space

Are you the hero of light we seek?
—Pre-registration trailer for the global release.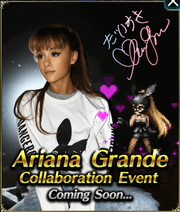 Pop star Ariana Grande has two guest appearances. The first is as the character, Dangerous Ariana; and the second as Chic Ariana. Dangerous Ariana's appearance is based off Grande's alter ego, Dangerous Woman. Her song "Touch It" was featured in the game and arranged as a Final Fantasy Brave Exvius remix.[9] Chic Ariana, meanwhile, is based on her real-world persona.

After the 22 May 2017 attack at Ariana Grande's concert in Manchester, England, the Final Fantasy Brave Exvius global team sent a message through the game extending their condolences.[10] To date, this is the first response to a current event by a game in the series. Final Fantasy XII was reworked in Japan following events of similar gravity, but no statement was issued outside of Japan.
External links
Edit
References
Edit

This article or section is a stub about a Final Fantasy game in Final Fantasy Brave Exvius. You can help the Final Fantasy Wiki by expanding it.