Cid:

Oh, shut up and help me remodel the Festive Fantasy page!

Please expand this article into a full one . This request can be discussed on the associated discussion page. Remove this notice upon completion.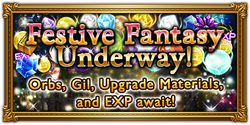 Festive Fantasy was a global-exclusive, holiday-themed Special Event in Final Fantasy Record Keeper, and was the direct successor to the Festival of Orbs event from October 2015. While laid out nearly identically to its prequel, Festive Fantasy added additional features typical of the game's third wave, explained below. In the global release, this event ran from December 17, 2015 to January 2, 2016 (UTC).
The main theme of the event was "Prelude" from Final Fantasy XII. The dungeon theme during this period was "Faerie Battle" from Final Fantasy IX. The battle theme was "Chocobo-Chocobo" from Final Fantasy IV.
Like its prequel, the Festive Fantasy issue was comprised of multiple parts:
A playable dungeon with the following:

Five-phase, five-tier layout, including Single Plus dungeons.
Guaranteed Orb and materials drops by phase
Increased Gil drop rate per tier

Additional modifiers to the Daily Login Bonus over the entire event
Double EXP per battle over the entire event
A one-time Lucky Relic Draw "Beginner's Choice" was added in tandem with the event, but a relationship between the two is not clear or has yet to be established.
Unless otherwise noted, all enemy draws were from Final Fantasy XIII. Record Synergy was not enforced.
If a Cactuar or a Gigantuar was defeated in battle, higher-level Orbs were dropped than were normally offered for a given tier.
White Mage:

Life's refreshing breeze, blow in energy! Cure!

This article can be improved in areas such as dates changed.
Please refer to the

Manual of Style

or

Editing Help

to get started.
Phase 1: Black, Dark, and Lightning Orbs
Edit
Run Dates: December 17 - December 20, 2015 (UTC)
Cloud:

I couldn't finish 'em. Looks like this's gonna get complicated.

The following tables are incomplete and require the dungeon and enemy lists entries to be filled. If you wish, please examine the table and add anything missing. Remove this notice upon completion.
Completion Rewards
Completion Type
Item
Quantity
Completion Reward
Gil
1,500
Mastery Reward
Lesser Black Orb
15
Lesser Lightning Orb
15
First Time Reward
Lesser Dark Orb
15
Mythril
1
Battles
Total Stamina: 9
Part 1
Enemies:
Gremlin
Vespid
Vespid Soldier
Part 2
Enemies:
Vespid Soldier
Vespid
Gremlin
Ghast
Part 3
Enemies:
Gremlin
Ghast
Vespid Soldier
Vespid
Completion Rewards
Completion Type
Item
Quantity
Completion Reward
Gil
5,000
Mastery Reward
Black Orb
10
Lightning Orb
10
First Time Reward
Dark Orb
10
Mythril
1
Battles
Total Stamina: 15
Part 1
Enemies:
Wight
Ghast
Vespid
Vespid Soldier
Part 2
Enemies:
Wight
Ghast
Gremlin
Vespid Soldier
Vespid
Part 3
Enemies:
Gremlin
Ghast
Vespid Soldier
Vespid
Completion Rewards
Completion Type
Item
Quantity
Completion Reward
Gil
12,000
Mastery Reward
Greater Black Orb
3
Greater Lightning Orb
3
First Time Reward
Greater Dark Orb
3
Mythril
1
Battles
Total Stamina: 30
Completion Rewards
Completion Type
Item
Quantity
Completion Reward
Gil
25,000
Mastery Reward
Major Black Orb
1
Major Lightning Orb
1
First Time Reward
Major Dark Orb
1
Mythril
1
Battles
Total Stamina: 45
Phase 2: White, Holy, and Earth Orbs
Edit
Run Dates: December 20 - December 23, 2015 (UTC)
Enemies
Myrmidon
Crusader
PSICOM Tracker
PSICOM Enforcer
Uhlan
Completion Rewards
Completion Type
Item
Quantity
Completion Reward
Gil
1,500
Mastery Reward
Lesser White Orb
15
Lesser Earth Orb
15
First Time Reward
Lesser Holy Orb
15
Mythril
1
Battles
Total Stamina: 9
Completion Rewards
Completion Type
Item
Quantity
Completion Reward
Gil
5,000
Mastery Reward
White Orb
10
Earth Orb
10
First Time Reward
Holy Orb
10
Mythril
1
Battles
Total Stamina: 15
Completion Rewards
Completion Type
Item
Quantity
Completion Reward
Gil
12,000
Mastery Reward
Greater White Orb
3
Greater Earth Orb
3
First Time Reward
Greater Holy Orb
3
Mythril
1
Battles
Total Stamina: 30
Completion Rewards
Completion Type
Item
Quantity
Completion Reward
Gil
25,000
Mastery Reward
Major White Orb
1
Major Earth Orb
1
First Time Reward
Major Holy Orb
1
Mythril
1
Battles
Total Stamina: 45
Phase 3: Fire, Ice, and Summoning Orbs
Edit
Run Dates: December 23 - December 26, 2015 (UTC)
Enemies
PSICOM Scavenger
PSICOM Aerial Recon
PSICOM Ranger
Corps Marksman
Corps Regular
Completion Rewards
Completion Type
Item
Quantity
Completion Reward
Gil
1,500
Mastery Reward
Lesser Summon Orb
15
Lesser Ice Orb
15
First Time Reward
Lesser Fire Orb
15
Mythril
1
Battles
Total Stamina: 9
Completion Rewards
Completion Type
Item
Quantity
Completion Reward
Gil
5,000
Mastery Reward
Summon Orb
10
Ice Orb
10
First Time Reward
Fire Orb
10
Mythril
1
Battles
Total Stamina: 15
Completion Rewards
Completion Type
Item
Quantity
Completion Reward
Gil
12,000
Mastery Reward
Greater Summon Orb
3
Greater Ice Orb
3
First Time Reward
Greater Fire Orb
3
Mythril
1
Battles
Total Stamina: 30
Completion Rewards
Completion Type
Item
Quantity
Completion Reward
Gil
25,000
Mastery Reward
Major Summon Orb
1
Major Ice Orb
1
First Time Reward
Major Fire Orb
1
Mythril
1
Battles
Total Stamina: 45
Phase 4: Power, Non-Elemental, and Wind Orbs
Edit
Run Dates: December 26, 2015 - December 29, 2015 (UTC)
Completion Rewards
Completion Type
Item
Quantity
Completion Reward
Gil
1,500
Mastery Reward
Lesser Power Orb
15
Lesser Wind Orb
15
First Time Reward
Lesser Non-Elemental Orb
15
Mythril
1
Battles
Total Stamina: 9
Completion Rewards
Completion Type
Item
Quantity
Completion Reward
Gil
5,000
Mastery Reward
Power Orb
10
Wind Orb
10
First Time Reward
Non-Elemental Orb
10
Mythril
1
Battles
Total Stamina: 15
Completion Rewards
Completion Type
Item
Quantity
Completion Reward
Gil
12,000
Mastery Reward
Greater Power Orb
3
Greater Wind Orb
3
First Time Reward
Greater Non-Elemental Orb
3
Mythril
1
Battles
Total Stamina: 30
Completion Rewards
Completion Type
Item
Quantity
Completion Reward
Gil
25,000
Mastery Reward
Major Power Orb
1
Major Wind Orb
1
First Time Reward
Major Non-Elemental Orb
1
Mythril
1
Battles
Total Stamina: 45