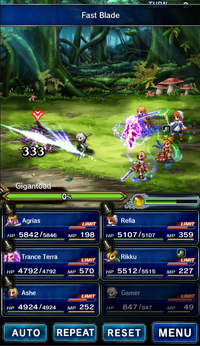 Fast Blade (ファストブレード, Fasuto Burēdo?, lit. First Blade) is a recurring ability in the series.
Appearances
Edit
Fast Blade is a Gladiator weaponskill learned at Level 1. It delivers an attack with a potency of 160. It costs 60 TP, has an instant cast time, and shares global cooldown with other weaponskills. Fast Blade can be chained to Riot Blade.
In PvP, Fast Blade functions the same except that its potency is 750, and it increases Oath Gauge by 5.