Relm:

I couldn't miss the chance to practice my drawing!

This article is in need of a few pictures. Perhaps you can help by uploading and adding a picture or two.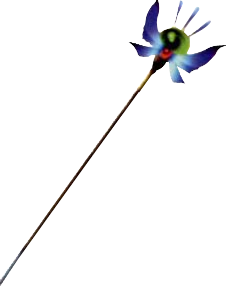 Fairy Tale (フェアリーテイル, Fairy Tale?), also called Faerie Tail, is a recurring staff in the series.
Appearances
Edit
VII The Fairy Tale is the third strongest weapon for Aeris, being bested by the Umbrella and Princess Guard. It provides 37 Attack, 103 Accuracy, +8 Magic, and has seven single Materia slots with normal growth. It could be bought for 2500 in Junon (discs 2/3), or dropped from Reno at Gongaga.
X The Faerie Staff is the name of any of Yuna's weapons that has Magic Booster and three Mag+% abilities.
XIII Faerie Tail is a dummied rod for Oerba Dia Vanille which reuses the model of Nirvana.
Non-Final Fantasy appearancesEdit
Fairytale is a staff that can be equipped by Yui.
Etymology
Edit
A fairy tale (pronounced /ˈfeəriˌteɪl/) is a type of short story that typically features European folkloric fantasy characters, such as dwarves, elves, fairies, giants, gnomes, goblins, mermaids, trolls, or witches, and usually magic or enchantments. Fairy tales may be distinguished from other folk narratives such as legends (which generally involve belief in the veracity of the events described) and explicitly moral tales, including beast fables.