Relm:

I couldn't miss the chance to practice my drawing!

This article is in need of a few pictures. Perhaps you can help by uploading a picture.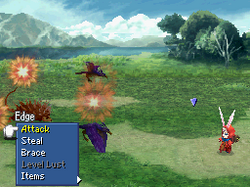 Eye Gouge (めつぶし, Metsubushi?), also known as Blinder and Blind, is a recurring ability in the Final Fantasy series. The ability inflicts Blind to its targets.
Appearances
Edit
Eye Gouge is an Augment ability in the Nintendo DS release of the game. It inflicts Blind, and is acquired by defeating Mopingway.
The Vulture has a 33% chance of using Eye Gouge each turn when alone. It Blinds a single target.
The Goblin uses Eye Gouge to Blind a target. It has a Range of one and a success rate of MA + 45.
Blinder is a non-elemental attack that can inflict Blind. It has an attack power of 75. The Adamant Turtle, Edgehog, Garuda, Manticor, and Roc are users of this ability.
FFL Blind is an ability that has 10 uses and inflicts Blind on a group of enemies. This ability is used by Ninja, Crab, Dragon 4, Dragon 5, Garuda, Rock, Nike, Ashura, Su-Zaku, and Su-Zaku2.
Blind is a status inflicting ability that has 5 uses, it also increases a Robot's HP by 9. It inflicts Blnd to one group of enemies. This ability can be used by Ant Lion, Champgno, DarkRose, FengLung, Garuda, Mushroom, Nike, Ninja, Roc, Shiitake, Su-Zaku, Ten-Gu, Toadstol, Wyrm, Wyrm Kid, Wyvern, and OdinCrow.
Blind can inflict Dark to one enemy. Amprex, BabyWyrm, Wyrm Kid, Wyrm, Duke, Dullahan, and Brain can use this ability.
BD Eye Gouge is an enemy ability that deals low physical damage and inflicts Blind. It is used by the Merchantry Thug.
Etymology
Edit
Eye-gouging is the act of pressing or tearing the eye using the fingers or instruments.