Ad blocker interference detected!
Wikia is a free-to-use site that makes money from advertising. We have a modified experience for viewers using ad blockers

Wikia is not accessible if you've made further modifications. Remove the custom ad blocker rule(s) and the page will load as expected.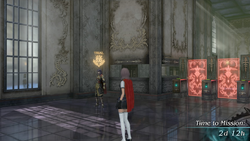 You'd better be prepared if you're planning on participating in an expert trial. If you go in expecting a routine practice, you're in for an unpleasant surprise.
—Class Sixth Cadet
Expert Trials are optional missions the player can undertake in Final Fantasy Type-0. They add new story scenes and provide a challenge and rewards. The level required to take them on is higher than the main scenario missions, and they are intended to be tackled on New Game Plus. They usually allow for fewer participants than main scenario missions. There needs to be at least 12 hours of free time left to take on a trial, and they are accepted by talking to the woman near the entrance of Akademeia. Like other missions, expert trials can be re-attempted at the Missions menu in the title screen.
List of Trials
Edit
Trial
Level
Participants
Obtained
RTS
Pyr. XXV

May 25

, 842 - The Keziah Diversion
35
4
Chapter 3
Pyr. XXVII

May 27

, 842 - United Front
36
14
Chapter 3
Gla. XIX

June 19

, 842 - Expelling the Empire
36
14
Chapter 3
Gla. XXIII

June 23

, 842 - The Clash in the Caverns
37
4
Chapter 3
Ter. XVII

July 17

, 842 - Covering the Cadets
38
6
Chapter 5
Ter. XXVIII

July 28

, 842 - A Charge on the Border
38
14
Chapter 5
Tem. IV

August 4

, 842 - The Battle on the Beach
40
4
Chapter 5
Tem. IX

August 9

, 842 - Colonel Faith's Revolt
41
6
Chapter 5
Tem. XXVII

August 27

, 842 - The Retreat from Roshana
45
14
Chapter 7
Gel. XII

October 12

, 842 - Operation Sticky Fingers
46
4
Chapter 7
Gel. XV

October 15

, 842 - Secret Agents Zero
46
14
Chapter 7
Gel. XVIII

October 18

, 842 - Operation Dragon Slayer
45
14
Chapter 7
Gel. XXII

October 22

, 842 - Thwarting the Royal Ambush
46
6
Chapter 7
Gel. XXX

October 30

, 842 - Wyverns in the Woods
47
6
Chapter 7
Sil. XXII

November 22

, 842 - The Climactic Clash at Azurr
48
14
Chapter 7
Sil. XXIV

November 24

, 842 - Operation Homecoming
37
4
Chapter 7
Sil. XXVI

November 26

, 842 - Protecting the Defector
49
4
Chapter 7
Sil. XXVII

November 27

, 842 - The Amiter Resistance
51
6
Chapter 7
Cae. I

December 1

, 842 - Dominating the Dragon's Nest
51
14
Chapter 7
Cae. V

December 5

, 842 - Colonel Faith's Last Stand
49
14
Chapter 7