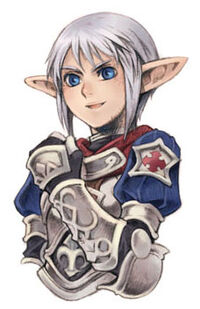 Excenmille M Aurchiat (エグセニミル・M・オルシャー, Egusenimiru M Orushā?) is an NPC of Final Fantasy XI. A young Elvaan male from the Kingdom of San d'Oria, he is captain of the Young Griffons. Brash and arrogant, he would usually jump hastily into battle, bringing his comrades Rahal S Lebrart, Rholont, and Bistillot into danger. He would eventually mature to become one of the renowned San d'Orian heroes.
This article or section is a stub about a character in Final Fantasy XI. You can help the Final Fantasy Wiki by expanding it.
Ad blocker interference detected!
Wikia is a free-to-use site that makes money from advertising. We have a modified experience for viewers using ad blockers

Wikia is not accessible if you've made further modifications. Remove the custom ad blocker rule(s) and the page will load as expected.