Relm:

I couldn't miss the chance to practice my drawing!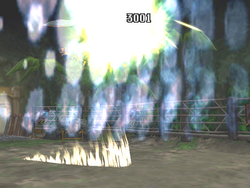 Excalibur (エクスカリバー, Ekusukaribā?), also known as Excaliber, is a recurring ability in the series. It is often one of the trademark abilities of Gilgamesh, and often inflicts moderate Holy-elemental physical damage to one or all enemies.
Appearances
Edit
Excalibur is one of the four random abilities used by Gilgamesh, which deals moderate Holy-elemental damage to all enemies with a Spell Power of 120. Excalibur is the first sword to drop onto the battlefield, and if Gilgamesh uses this attack. Excalibur will glow red before Gilgamesh attacks the enemy party with it.
Excaliber is one of the four random abilities used by Gilgamesh, which inflicts moderate physical damage to all enemies with a base power of 50.
Excalibur is an ability for the Warrior dressphere in the Swordplay skillset. It deals physical Holy-elemental damage to one enemy at the cost of 24 MP, requires 120 AP to learn, and requires the ability Demi Sword to be learned before it appears. It can also be used via Lady Luck's Attack Reels by rolling three BARs.
Gilgamesh's Dissidia art card can use Excalibur, usable by discarding another Gilgamesh card and Dulling Gilgamesh. The player chooses one Forward, then removes the top card of their deck from the game. If that card was a Forward, the chosen Forward is Broken, if the removed card was any other card the chosen Forward receives 3,000 damage.
Etymology
Edit
[view · edit · purge]The Excalibur is King Arthur's sword, the one he obtained from the Lady in the Lake, after the one he pulled from the stone broke. Excalibur itself is thought to be derived from Caladbolg, which in itself may be drawn from the Welsh Caledfwlch, which can be latinised as Caliburnus. The legends state the sword was virtually peerless and only passed to the chosen. However, King Arthur was mortally wounded while wielding the sword by his son, Mordred in the battle of Camlann. Upon his death, it was either Sir Lancelot or Sir Griflet who, after much hesitation about discarding such a powerful sword, returned the Excalibur to the Lady in the Lake.