Evil Forest
Talk

0
13,959 pages on
this wiki
Cid

: Oh, shut up and help me remodel the Evil Forest page!
Please expand this article into a full one. This can be done by Adding a Locations section with images and brief descriptions of the areas within the whole location. This request can be discussed on the associated

discussion page

.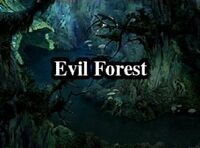 "Plants that attack people... I guess they don't call it Evil Forest for nothin'."
—Tantalus Theater Troupe's cymbalist
The Evil Forest (魔の森, Ma no Mori?) is a location in the game Final Fantasy IX. It completely fills a vast valley just south of Alexandria, with the Ceebell River running through it. It has a tendency to petrify often, and is inhabited by dangerous plants, probably resulting from Mist.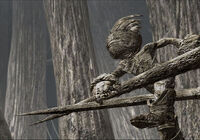 When Tantalus tried to escape Alexandria with Princess Garnet in the Prima Vista, Queen Brahne fired cannonballs at the ship, shooting it down. It landed in the Evil Forest, and the passengers were scattered. Garnet and Vivi were caught by a Prison Cage, and Zidane and Steiner tried to rescue them. They succeeded in rescuing Vivi, but not Garnet.
However, Steiner and Vivi contract a poison from the plant and return with Zidane to the Prima Vista crash site where Marcus, Blank, and Cinna are tending to the survivors. Benero and Zenero hold an uncooperative Steiner prisoner, and Blank and Zidane help Vivi. Zidane wants to save Garnet, but his boss Baku refuses to let him do it, saying that Tantalus needs to be safe before the princess.
As a result, Zidane fights Baku for the right to leave Tantalus and rescue Garnet. He wins the fight, and Baku lets him go. Blank gives Zidane some medicine for her, and he sets off with Vivi and Steiner. Baku sends Blank after them with a Continental Map soon after. Blank arrives just in time to help Zidane, Vivi, and Steiner rescue Garnet from the Plant Brain.
However, this causes the whole forest to become unstable, and it begins to turn to stone. Zidane and his friends have to escape in seven minutes, while they are pursued by many Plant Spiders. Blank pushes Zidane away from the clutches of one of the monsters and gets petrified himself, along with the rest of the forest. Before his sacrifice, he throws the map at the last second. Zidane recovers with Steiner, Vivi, and Garnet, and they leave the next morning to head for the Ice Cavern.
Later on, Marcus retrieves the Supersoft and returns to the forest to rescue Blank, who makes a full recovery.
Key Items
Edit
Blank's Medicine
Continental Map
Moogle's Flute
Shop List
Edit
Cinna runs an item shop outside the Prima Vista.
| Item | Price (gil) |
| --- | --- |
| Potion | 50 |
| Phoenix Down | 150 |
| Antidote | 50 |
| Eye Drops | 50 |
| Tent | 800 |
Monster Formations
Edit
Musical Themes
Edit
The theme that plays in the Evil Forest is called "Awakened Forest." In an ATE, the Prima Vista band plays a version of "Rufus' Welcoming Ceremony" from Final Fantasy VII.

Backgrounds and Screenshots