Eureka (Location)
Talk

33
15,593 pages on
this wiki
Relm

: I couldn't miss the chance to practice my drawing!
This article is in need of a few pictures. Perhaps you can help by

uploading

a picture of the field sprites of the Elder Staff and Moonring Blade from DS/iOS/PSP version.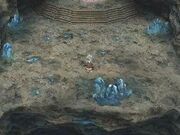 The Forbidden Land, Eureka (禁断の地エウレカ, Kindan no chi Eureka?) is an optional dungeon in the game Final Fantasy III which contains some of the best equipment in the game. A gateway to it can be found at the bottom floor of the Crystal Tower, but the Eureka Key is required. Doga and Unei unlock the Eureka Key, and give it to the Warriors of Light, granting them access to Eureka, knowing they need better equipment to fight Xande.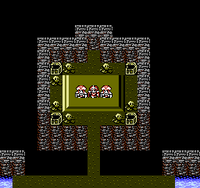 In the final area of Eureka the player can find three shopkeepers selling some of the best spells, summons, and equipment in the game. It is also worth noting that this is the only place where Shuriken can be purchased, though at a ridiculously high price.
Name
Cost
Famicom
Remake
Catastro
45,000 gil
60,000 gil
Leviath
55,000 gil
60,000 gil
Bahamur
65,000 gil
60,000 gil
Hidden Shop
Edit
To discover the hidden shop the player must walk to the right, through the wall on the screen where the other two shopkeepers stand.
Battle Background
Edit

Eureka has its own exclusive background theme, originally translated "Forbidden Land" in the Original Sound Version, but was retconned as "Forbidden Land Eureka" (禁断の地エウレカ, Kindan no Chi Eureka?) in the Original Soundtrack. It is available as a battle background music for Dissidia 012 Final Fantasy as part of a downloadable content pack of three tracks from Final Fantasy III.

Other Appearances
Edit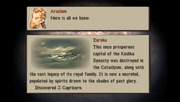 The Forbidden Land Eureka was mentioned as one of the wonders in Final Fantasy Tactics. It bears the following description:
This once prosperous capital of the Kashka Dynasty was destroyed in the Cataclysm, along with the vast legacy of its royal family. It is now a necrohol, populated by spirits drawn to the shades of its past glory.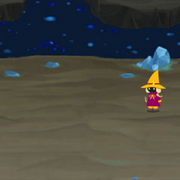 Etymology
Edit
Eureka (Gr. εύρηκα) is a historically famous Greek word that means "I have found it".