Erutus Profiteur, also styled as the Merchant of Death, is a non-player character in Bravely Default, Bravely Default: Praying Brage, and Bravely Second: End Layer. He is the chairman of the Khamer & Profiteur Merchantry and keeper of the Merchant asterisk.
D's Journal entries
Edit
Chairman Profiteur
Chairman of Khamer & Profiteur Merchantry, which is based in Ancheim. The king gave him the rights to sell the water pumped from beneath Ancheim by the Grand Mill, and his place of business is second only to the king's palace in opulence.
Profiteur, Merchant of Death
The Merchant of Death who used his monopoly on water to raise prices, then used the Jackal to attack people forced to go to the oasis.
A 44-year-old man from Ancheim. His name is Erutus Profiteur, and he holds the merchant asterisk. He would do anything for money. He willingly earns scorn and enmity, and thinks nothing of betraying trust and friendship for gain.
Likes: Money, profit, corruption
Dislikes: Justice, purity, long meetings
Appearance
Edit
Profiteur is a 44 year old man with short blond hair, a small black mustache and light blue eyes. He has a rat-like face with pale skin, very large ears and a single buck tooth. He wears a red pinstripe shirt with gold buttons and red pinstripe pants. He wears small brown shoes with gold tips and white gloves. He wears a black high collar cloak and a large clock around his neck. He also carries a brown cane with a gold handle. He wears a tall black top hat with a red ribbon wrapped around the bottom.
Personality
Edit
Bravely DefaultEdit
Profiteur is fought as part of the Ancheim subquests. He initially fights alongside Ciggma Khint, who will abandon the fight when Profiteur's HP drops below 50%. He can be battled again in the other worlds the party encounters, growing slightly stronger each time.
As a Merchant, Profiteur typically uses abilities which require him to spend money to achieve their effects. He often uses Pay to Play to increase his Critical Hit rate, or Takeover which allows him to deal fixed, unblockable damage.
Bravely SecondEdit
Chairman Profiteur is fought as part of a sidequest.
Creation and development
Edit
Erutus is voiced by Masaki Terasoma in the Japanese version. He shares his Japanese voice actor with Vossler York Azelas from Final Fantasy XII.
He is voiced by Christopher Corey Smith in the English version and speaks with a French accent. He shares his English voice actor with Zatz Mightee and Emperor Mateus from the Dissidia Final Fantasy series.
Other appearances
Edit
BDPB Erutus appears as an obtainable unit.
Other media
Edit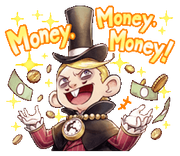 Erutus appears on a sticker set for the LINE communications app. The sticker set he appears in is titled "Bravely Stickers - Volume 2".[2]

Bravely Default
Bravely Second: End Layer.
Etymology
Edit
[view · edit · purge]Erutus comes from the Latin term for "razed, torn up, eradicated." This is in keeping with his title as "The Merchant of Death."
[view · edit · purge]Profiteur is French for "profiteer," or the act of making excessive profits unfairly and illegally.
In Japanese, (ニコソギー, Nikosogī?) is a corruption of (根こそぎ, nekosogi?), while "Boritori" is derived from the verb (搾り取る, shiboritoru?). Together, the phrase "to exploit thoroughly" is formed, indicating Profiteur's main motive as a businessman.
References
Edit