Equipment
Talk

0
14,785 pages on
this wiki
Cid

: Oh, shut up and help me remodel the Equipment page!
Please expand this article into a full one. More details can be found, and this request can be discussed, on the associated

discussion page

.
Relm

: I couldn't miss the chance to practice my drawing!
This article is in need of a few pictures. Perhaps you can help by

uploading

a picture of Equip(ment) scenes from missing Final Fantasy titles.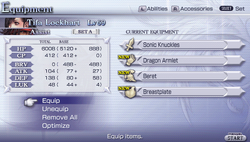 Equipment (イクイップメント, Ikuippumento?) is part of every role-playing game, Final Fantasy series are no different. The most basic equipment piece available in all games is weapon which have different capabilities in battle. Then are armors, helmets and shields.
Usually accessories have the most slots available: from one in most games, then two in Final Fantasy X-2, maximum of four in Final Fantasy XIII and Final Fantasy XIII-2, ending on ten slots in Dissidia 012 Final Fantasy.
Appearances
Edit
All characters have three equipment slots available: "Weapon" which is required to be filled, "Armor", and "Accessory". Player can assign Materia to currently equipped weapons and armor.
Uniquely in the series, all characters have access only to the "Weapon" slot which is required to be filled.
All party members are required to be equipped with a weapon, while the "Armor" slot is an optional to be filled.
Weapons are tied to dresspheres and and each girl dons a different looking weapon to differentiate them. For the "Equip" option in the menu each girl can change her Garment Grid, dressphere set in the currently equipped Garment Grid, and can optionally fill two "Accessory" slots.
Each character starts with a "Weapon" slot which is required to be filled at all times and one "Accessory" slot which is not requires to be filled. In the main story, two more "Accessory" slots are unlocked by advancing through the characters' Crystaria, and defeating the final boss allows player to acquire fourth "Accessory" slot from the final Crystarium expansion.
Both Serah and Noel start with the "Weapon" slot which is required to be filled, and four "Accessory" slots which doesn't require to be filled. Additionally, they both start with fifty "Accessory Capacity" points, and can raise the number of points by advancing through the Crystarium; the number of points increases respectively by 20, 20, and 10 points for a maximum of 100 points.
Human characters available through the downloadable content as Paradigm Pack allies have set weapons and they cannot be changed. Also, they cannot be equipped with accessories to enhance their battle performance. The only way to add 'equipment' for the allies is equipping them with an adornment which serves only as an aesthetic change and doesn't grant any bonuses.
Sumo can equip up to one weapon or spell. Unlike other games, items must be equipped in order for the player to use them.
Unlike many RPGs, the player can equip weapons, armor, spells, items, and abilities under the Equip menu. Up to eight things can be equipped per characters.
Like many traditional RPGs, up to eight piece of equipment can be equipped on the four main characters. One slot for weapons, five slots for armor, and two slots for accessories. Temporary party members are limited in what they can equip.