Empyrean Weapon
Talk

3
13,959 pages on
this wiki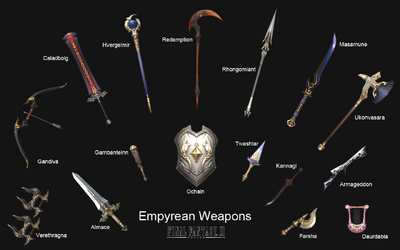 Empyrean Weapons are sixteen weapons in Final Fantasy XI obtainable through a series of weapon trials as part of the Trial of the Magians. It is prophesied that the weapons, which are embed with moogle magic, will slumber until such time as adventurers will wield them to avert calamity from befalling the world.
Empyrean Weapons are the third set of legendary arms to be introduced in Final Fantasy XI and require purchase of the various Abyssea battle add-ons to obtain and further upgrade. Similar to Relic Weapons, Empyrean Weapons are divided by the fourteen weapon types that have weapon skills (which means all weapon types other than Throwing) and also include an additional shield and instrument.
Players must undergo numerous trials, starting from the base weapon obtain from a splintery chest in Ru'Lude Gardens to obtain the Empyrean Weapons. However, depending on which path of trials they choose, they may not necessarily upgrade to an Empyrean Weapon. The trials included in upgrading towards an Empyrean Weapon typically involve defeating specific Notorious Monsters a number of times, and collecting the battle trophies of certain High Notorious Monsters.
All damage dealing Empyrean Weapons come with unique weapon skills that can only be found in one other weapon of its kind, obtained through similar trials to the Empyrean Weapons themselves. However, these other weapons do not receive the bonus Aftermath effects granted when using the special weapon skills - the Aftermath effects are unique to Empyrean Weapons. Furthermore, once upgraded to the final Level 99 Afterglow form, these aftermath abilities can be imbued temporarily to allies.
Although the initial level of a "completed" Empyrean Weapon is 80, it does not gain its unique weapon skill and aftermath effects until it is upgraded to its level 85 version. As of 2012, each weapon can be upgraded to its elevated Level 99 form, granting the Afterglow ability. The afterglow of all Empyrean Weapons is a brilliant scarlet.
List of Empyrean Weapons
Edit
Name
Type
Image
Jobs
Weapon Skill
Aftermath
Weaponskill Ability
Trial Weapon

Verethragna

Hand-to-Hand
MNK / PUP
Victory Smite
Occasionally deals double damage
Fourfold Attack/TP Determines Critical Hit Bonus
First Stage: Pugilists
(85) DMG: +32 Delay: +51 STR +10


(90) DMG: +35 Delay: +51 STR +15
(95) DMG: +39 Delay: +51 STR +17
(99) DMG: +42 Delay: +51 STR +20

Second Stage: Simian Fists
Third Stage: Mantis

Twashtar

Dagger
THF / BRD / DNC
Rudra's Storm
Occasionally deals double damage
Triple Damage/Inflicts Gravity Status
First Stage: Peeler
(85) DMG: 45 Delay: 176 DEX +10


(90) DMG: 48 Delay: 176 DEX +15
(95) DMG: 52 Delay: 176 DEX +17
(99) DMG: 55 Delay: 176 DEX +20

Second Stage: Renegade
Third Stage: Kartika

Almace

Sword
RDM / PLD / BLU
Chant du Cygne
Occasionally deals double damage
Threefold Attack/TP Determines Critical Hit Bonus
First Stage: Side-sword
(85) DMG: 57 Delay: 224 DEX +10


(90) DMG: 61 Delay: 224 DEX +15
(95) DMG: 66 Delay: 224 DEX +17
(99) DMG: 70 Delay: 224 DEX +20

Second Stage: Schiavona
Third Stage: Nobilis

Caladbolg

Great Sword
PLD / DRK
Torcleaver
Occasionally deals double damage
Triple Damage/Damage Varies with TP
First Stage: Break Blade
(85) DMG: 109 Delay: 430 VIT +10


(90) DMG: 120 Delay: 430 VIT +15
(95) DMG: 132 Delay: 430 VIT +17
(99) DMG: 142 Delay: 430 VIT +20

Second Stage: Sunblade
Third Stage: Albion

Farsha

Axe
WAR / BST
Cloudsplitter
Occasionally deals double damage
Deals Lightning Elemental Damage
First Stage: Chopper
(85) DMG: 68 Delay: 276 STR+7 MND+7


(90) DMG: 74 Delay: 276 STR+10 MND+10
(95) DMG: 80 Delay: 276 STR+11 MND+11
(99) DMG: 86 Delay: 276 STR+13 MND+13

Second Stage: Splinter
Third Stage: Bonebiter

Ukonvasara

Great Axe
WAR
Ukko's Fury
Occasionally deals double damage
Twofold Attack/Inflicts Slow Status/TP Determines Critical Hit Bonus
First Stage: Lumberjack
(85) DMG: 122 Delay: 482 STR+10


(90) DMG: 131 Delay: 482 STR+15
(95) DMG: 144 Delay: 482 STR+17
(99) DMG: 156 Delay: 482 STR+20

Second Stage: Sagaris
Third Stage: Bonesplitter

Redemption

Scythe
DRK
Quietus
Occasionally deals double damage
Triple Damage/Ignores 10-50% of Target's Defense Depending on TP
First Stage: Farmhand
(85) DMG: 127 Delay: 502 STR +7 MND +7


(90) DMG: 136 Delay: 502 STR +10 MND +10
(95) DMG: 150 Delay: 502 STR +11 MND +11
(99) DMG: 163 Delay: 502 STR +13 MND +13

Second Stage: Stigma
Third Stage: Ultimatum

Rhongomiant

Polearm
DRG
Camlann's Torment
Occasionally deals double damage
Triple Damage/Ignores 10-50% of Target's Defense Depending on TP
First Stage: Ranseur
(85) DMG: 125 Delay: 492 VIT +10


(90) DMG: 132 Delay: 492 VIT +15
(95) DMG: 146 Delay: 492 VIT +17
(99) DMG: 159 Delay: 492 VIT +20

Second Stage: Copperhead
Third Stage: Oathkeeper

Kannagi

Katana
NIN
Blade: Hi
Occasionally deals double damage
Quadruple Damage/TP Determines Critical Hit Bonus
First Stage: Kibashiri
(85) DMG: 52 Delay: 210 AGI +10


(90) DMG: 55 Delay: 210 AGI +15
(95) DMG: 59 Delay: 210 AGI +17
(99) DMG: 64 Delay: 210 AGI +20

Second Stage: Koruri
Third Stage: Mozu

Masamune

Great Katana
SAM
Tachi: Fudo
Occasionally deals double damage
Double Damage/Damage Varies with TP
First Stage: Donto
(85) DMG: 107 Delay: 437 STR +10


(90) DMG: 114 Delay: 437 STR +15
(95) DMG: 123 Delay: 437 STR +17
(99) DMG: 132 Delay: 437 STR +20

Second Stage: Shirodachi
Third Stage: Radennotachi

Gambanteinn

Club
WHM
Dagan
Occasionally deals double damage
TP Determines Restored HP and MP
First Stage: Stenz
(85) DMG: 74 Delay: 300 HP +50 MP +50


(90) DMG: 78 Delay: 300 HP +70 MP +70
(95) DMG: 84 Delay: 300 HP +80 MP +80
(99) DMG: 90 Delay: 300 HP +90 MP +90

Second Stage: Rageblow
Third Stage: Culacula

Hvergelmir

Staff
BLM / SMN / SCH
Myrkr
Occasionally deals double damage
Removes 3 Statuss and Restores MP of User
First Stage: Crook
(85) DMG: 93 Delay: 390 MP +80


(90) DMG: 98 Delay: 390 MP +120
(95) DMG: 105 Delay: 390 MP +140
(99) DMG: 113 Delay: 390 MP +150

Second Stage: Shillelagh
Third Stage: Slaine

Gandiva

Bow
RNG
Jishnu's Radiance
Occasionally deals double damage
Threefold Attack/TP Determines Critical Hit Bonus
First Stage: Sparrow
(85) DMG: 95 Delay: 490 DEX +10


(90) DMG: 103 Delay: 490 DEX +15
(95) DMG: 110 Delay: 490 DEX +17
(99) DMG: 117 Delay: 490 DEX +20

Second Stage: Kestrel
Third Stage: Astrild

Armageddon

Marksmanship
RNG / COR
Wildfire
Occasionally deals double damage
Deals Fire Elemental Damage/TP Determines Enmity Loss
First Stage: Thunderstick
(85) DMG: 61 Delay: 582 AGI +10


(90) DMG: 64 Delay: 582 AGI +15
(95) DMG: 70 Delay: 582 AGI +17
(99) DMG: 79 Delay: 582 AGI +20

Second Stage: Blue Steel
Third Stage: Magnatus

Daurdabla

String Instrument
BRD
-
-
-
First Stage: Pyf Harp

(85) Singing Skill +5 String Instrument Skill +5
(90) Singing Skill +20 String Instrument Skill +20 Increases song effect duration "Grants an additional song effect"
(95) Singing Skill +20 String Instrument Skill +20 Increases song effect duration "Grants an additional song effect"
(99) Singing Skill +20 String Instrument Skill +20 Increases song effect duration "Grants two additional song effects"

-
-

Ochain

Shield
PLD
Shield Size 6: Block Rate 75-95%
First Stage: Utilis Shield
(85) DEF:20 VIT+10


(90) DEF:40 VIT +20 Converts 25% of damage taken to MP upon successful block
(95) DEF:40 VIT +22 Converts 30% of damage taken to MP upon successful block
(99) DEF:40 VIT +25 Converts 35% of damage taken to MP upon successful block

-
-