Elza
Talk

4
13,965 pages on
this wiki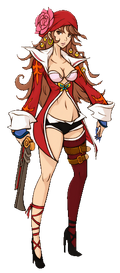 "I wasn't blind! I saw the faith that Reddas had in them. I'm sure they'll discover what it is they need to do in short time."
—Elza
Elza (エルザ, Eruza?) is a character from Final Fantasy XII and Final Fantasy XII: Revenant Wings. A member of Reddas's crew, along with Rikken and Raz, she is very loyal to her leader, more so than the other two, and considers herself one of the fastest people in Ivalice.
Appearance and personality
Edit
The party first encounter Elza at Balfonheim, after talking to Reddas. She is found with Rikken and Raz, just outside Reddas's house. Questioning whether the party has Reddas's best interests at heart, she wonders if they should be helping them. Rikken then asks her if she had complained to Reddas, which silences her.
When the party returns from the Pharos at Ridorana, Elza is not surprised by Reddas's death, knowing that her master had been searching for a place to die all along. When the other two start feeling bad, she tells them that they should not regret Reddas's passing, since that would worry Reddas, and he should rest in peace.
In Battle
Edit
Main article: Elza (Boss)
Elza is fought alongside Rikken and Raz on several islands of Lemurés.
Sidequests
Edit
Footraces
Edit
Main article: Rikken#Racing
The party can challenge Rikken, Elza, and Raz to a foot race through the streets of Balfonheim anytime after meeting them. Racing only requires pressing two buttons together. Beating them gets the player Potions and curative items. Tier 100 awards 10,000 gil, any tier higher than tier 30 will give Unpurified Ether and/or Elixirs. Elza is the slowest, and is commonly passed near the beginning of the race.