Elvoret
エルヴィオレ (

Eruviore

?)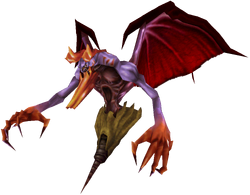 Statistics
Level
HP

3(Lv)² + 160(Lv) + 1400

Level
HP

3(Lv)² + 160(Lv) + 1400

1
1,563
11
3,523
STR

([4.2(Lv)] + [(Lv) / 5] - [(Lv)² / 260] + 65) / 4

MAG

([7(Lv)] + [(Lv) / 5] - [(Lv)² / 500] + 36) / 4

STR

([4.2(Lv)] + [(Lv) / 5] - [(Lv)² / 260] + 65) / 4

MAG

([7(Lv)] + [(Lv) / 5] - [(Lv)² / 500] + 36) / 4

17
10
28
28
VIT

((Lv) / 5) - (Lv) + (Lv) + 2

SPR

((Lv) / 3) - (Lv) + (Lv) + 127

VIT

((Lv) / 5) - (Lv) + (Lv) + 2

SPR

((Lv) / 3) - (Lv) + (Lv) + 127

2
127
4
130
SPD

((Lv) / 5) - [(Lv) / 40] + 8

EVA

((Lv) / 6) - [(Lv) / 12]

SPD

((Lv) / 5) - [(Lv) / 40] + 8

EVA

((Lv) / 6) - [(Lv) / 12]

8
0
10
1
EXP

0

AP
EXP

0

AP
0
10
0
10
| Lv | HP | STR | MAG | VIT | SPR | SPD | EVA | EXP |
| --- | --- | --- | --- | --- | --- | --- | --- | --- |
| 1 | 1563 | 17 | 10 | 2 | 127 | 8 | 0 | 0 |
| 2 | 1732 | 18 | 12 | 2 | 127 | 8 | 0 | 0 |
| 3 | 1907 | 19 | 14 | 2 | 128 | 8 | 0 | 0 |
| 4 | 2088 | 20 | 16 | 2 | 128 | 8 | 0 | 0 |
| 5 | 2275 | 21 | 18 | 3 | 128 | 9 | 0 | 0 |
| 6 | 2468 | 22 | 19 | 3 | 129 | 9 | 1 | 0 |
| 7 | 2667 | 23 | 21 | 3 | 129 | 9 | 1 | 0 |
| 8 | 2872 | 24 | 23 | 3 | 129 | 9 | 1 | 0 |
| 9 | 3083 | 25 | 25 | 3 | 130 | 9 | 1 | 0 |
| 10 | 3300 | 27 | 27 | 4 | 130 | 10 | 1 | 0 |
| Lv | HP | STR | MAG | VIT | SPR | SPD | EVA | EXP |
| --- | --- | --- | --- | --- | --- | --- | --- | --- |
| 11 | 3523 | 28 | 28 | 4 | 130 | 10 | 1 | 0 |
Elvoret is a boss in Final Fantasy VIII. Its appearance is similar to another monster called Elnoyle.
Before Elvoret appears, Squall and his team must fight Biggs and Wedge. After a considerable amount of damage has been given, Elvoret will make its appearance by blowing the two Galbadian soldiers out of battle.
Elvoret possesses the Siren GF, which the player must draw. If missed, the player must wait until Disc 4 to get another chance in obtaining the GF. Elvoret uses Storm Breath, a non-elemental attack, used after three turns and hits all party members. It also uses Fire and Thunder.
Strategy
Edit
If possible, the party should try and stock as many Double spells as possible, as it will be a while until the player gets a chance to draw them again. The party can also draw-cast the spell, which may make healing faster. The player should have one Mag-J junction ability at this point, from Quezacotl. It can be given to Selphie to boost her Magic stat, and use her for a healer and to doublecast magic at Elvoret. Ifrit should have the Str-J junction, and when given to either Squall or Zell, it helps them dish out a lot of damage during their Limit Breaks.
Other appearances
Edit


This article or section is a stub about an enemy in Pictlogica Final Fantasy. You can help the Final Fantasy Wiki by expanding it.
Etymology
Edit
[view · edit · purge]Elvoret is derived from aile violette, French for "violet wing."
Related enemies
Edit