Elnoyle
18,293 pages on
this wiki
Talk

7
Elnoyle
エルノーイル (

Erunōiru

?)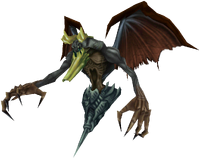 Statistics
Level
HP
Level
HP
1
30,421
29
43,021
STR
MAG
STR
MAG
64
64
118
118
VIT
SPR
VIT
SPR
11
81
31
109
SPD
EVA
SPD
EVA
10
0
12
1
EXP
AP
EXP
AP
220
18
780
18
Elnoyle
エルノーイル (

Erunōiru

?)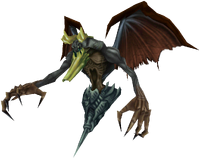 Statistics
Level
HP
Level
HP
30
43,500
39
47,901
STR
MAG
STR
MAG
120
120
137
136
VIT
SPR
VIT
SPR
32
110
38
119
SPD
EVA
SPD
EVA
12
1
12
1
EXP
AP
EXP
AP
800
18
980
18
Elnoyle
エルノーイル (

Erunōiru

?)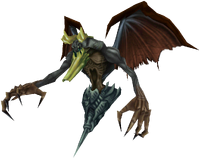 Statistics
Level
HP
Level
HP
40
48,400
100
82,000
STR
MAG
STR
MAG
139
138
251
250
VIT
SPR
VIT
SPR
39
120
83
180
SPD
EVA
SPD
EVA
13
1
16
3
EXP
AP
EXP
AP
1,000
18
2,200
18
Heehahaheehee.
—Elnoyle
Elnoyle is an enemy in Final Fantasy VIII. Its appearance is similar to the boss Elvoret, except for the dull brown coloration.
Encountering
Edit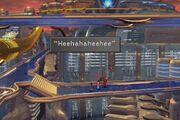 When Esthar City is flooded with monsters after the Lunar Cry, to the north of Odine's Lab there is a black figure sitting at the farthest point, who will laugh "Heehahaheehee" when the player tries to strike a conversation. The fight commences immediately after that, and the player cannot escape the battle. This can be repeated as many times as the player wishes by leaving the screen and returning.
Energy Crystals
Edit
Elnoyle is an important enemy because it drops Energy Crystals needed to remodel Quistis's and Rinoa's ultimate weapons. Plus, they can be refined into Pulse Ammo needed for the Lion Heart, Squall's best weapon, and for Irvine's Shot Limit Break. Energy Crystals can also be refined into Ultima.
Elnoyles are weak against Death, and junctioning a hundred of them to status attack has a chance of killing an Elnoyle in a single hit. Without the Death strategy, the battles can be quite annoying because Elnoyle often counterattacks with a physical attack. It also casts powerful magic and uses its Tail Needle attack on occasion. It is also susceptible to Degenerator.
Elnoyle Card

Element
None
Refine
10 refine into 1 Energy Crystal
Drop
Elnoyle
Card
N/A
Level 5 (Monster Card)
Win
N/A
Etymology
Edit
[view  · edit  · purge]Elnoyle is derived from aile noire, French for "black wing."
In the Japanese version of the game, Elnoyle's HP formula is .
Related enemies
Edit