Elite Soldier
エリート兵 (

Erītohei

?)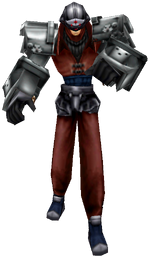 Statistics
Level
HP

0.4(Lv)² + 8(Lv) + 140

Level
HP

0.4(Lv)² + 8(Lv) + 140

1
148
19
436
STR

([5.2(Lv)] + [(Lv) / 5] - [(Lv)² / 260] + 7) / 4

MAG

([4.5(Lv)] + [(Lv) / 2] - [(Lv)² / 400] + 20) / 4

STR

([5.2(Lv)] + [(Lv) / 5] - [(Lv)² / 260] + 7) / 4

MAG

([4.5(Lv)] + [(Lv) / 2] - [(Lv)² / 400] + 20) / 4

3
6
26
28
VIT

((Lv) / 8) - (Lv) + (Lv) + 36

SPR

((Lv) / 32) - (Lv) + (Lv) + 38

VIT

((Lv) / 8) - (Lv) + (Lv) + 36

SPR

((Lv) / 32) - (Lv) + (Lv) + 38

36
38
38
38
SPD

((Lv) / 6) - [(Lv) / 12] + 6

EVA

((Lv) / 6) - [(Lv) / 12] + 2

SPD

((Lv) / 6) - [(Lv) / 12] + 6

EVA

((Lv) / 6) - [(Lv) / 12] + 2

6
2
8
4
EXP

5(Lv)² + 25

AP
EXP

5(Lv)² + 25

AP
30
2
120
2
Elite Soldier
エリート兵 (

Erītohei

?)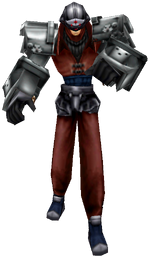 Statistics
Level
HP

0.4(Lv)² + 8(Lv) + 140

Level
HP

0.4(Lv)² + 8(Lv) + 140

20
460
29
708
STR

([5.2(Lv)] + [(Lv) / 5] - [(Lv)² / 260] + 7) / 4

MAG

([4.5(Lv)] + [(Lv) / 2] - [(Lv)² / 400] + 20) / 4

STR

([5.2(Lv)] + [(Lv) / 5] - [(Lv)² / 260] + 7) / 4

MAG

([4.5(Lv)] + [(Lv) / 2] - [(Lv)² / 400] + 20) / 4

28
29
39
40
VIT

((Lv) / 8) - (Lv) + (Lv) + 36

SPR

((Lv) / 32) - (Lv) + (Lv) + 38

VIT

((Lv) / 8) - (Lv) + (Lv) + 36

SPR

((Lv) / 32) - (Lv) + (Lv) + 38

38
38
39
38
SPD

((Lv) / 6) - [(Lv) / 12] + 6

EVA

((Lv) / 6) - [(Lv) / 12] + 2

SPD

((Lv) / 6) - [(Lv) / 12] + 6

EVA

((Lv) / 6) - [(Lv) / 12] + 2

8
4
8
4
EXP

5(Lv)² + 25

AP
EXP

5(Lv)² + 25

AP
125
2
170
2
Location
Dollet - around town, Communications Tower,
Timber,
Galbadia - D-District Prison, Missile Base
Balamb Garden
Fishermans Horizon
Esthar - Esthar City, Lunatic Pandora
Scan
An officer acting together with Galbadian soldiers. Defeat him first, before he uses recovery magic on the other soldiers.
Class
None
Card
Can't turn into a card!
Mug (50%)
Tent (69.5%)
Cottage (30.5%)
Item drop (59%)
Card Drop (0%)
Nothing
Draw
Fira
Thundara
Blizzara
Scan
Devour
Couldn't Devour!
Abilities
Charge, Machine Gun, Cura, Shell, Aura
Other information
None
Elite Soldier
エリート兵 (

Erītohei

?)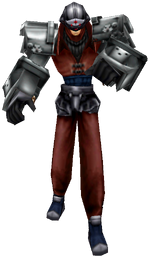 Statistics
Level
HP

0.4(Lv)² + 8(Lv) + 140

Level
HP

0.4(Lv)² + 8(Lv) + 140

30
740
100
4,940
STR

([5.2(Lv)] + [(Lv) / 5] - [(Lv)² / 260] + 7) / 4

MAG

([4.5(Lv)] + [(Lv) / 2] - [(Lv)² / 400] + 20) / 4

STR

([5.2(Lv)] + [(Lv) / 5] - [(Lv)² / 260] + 7) / 4

MAG

([4.5(Lv)] + [(Lv) / 2] - [(Lv)² / 400] + 20) / 4

41
42
127
123
VIT

((Lv) / 8) - (Lv) + (Lv) + 36

SPR

((Lv) / 32) - (Lv) + (Lv) + 38

VIT

((Lv) / 8) - (Lv) + (Lv) + 36

SPR

((Lv) / 32) - (Lv) + (Lv) + 38

39
38
48
41
SPD

((Lv) / 6) - [(Lv) / 12] + 6

EVA

((Lv) / 6) - [(Lv) / 12] + 2

SPD

((Lv) / 6) - [(Lv) / 12] + 6

EVA

((Lv) / 6) - [(Lv) / 12] + 2

9
5
14
10
EXP

5(Lv)² + 25

AP
EXP

5(Lv)² + 25

AP
175
2
525
2
Location
Dollet - around town, Communications Tower,
Timber,
Galbadia - D-District Prison, Missile Base
Balamb Garden
Fishermans Horizon
Esthar - Esthar City, Lunatic Pandora
Scan
An officer acting together with Galbadian soldiers. Defeat him first, before he uses recovery magic on the other soldiers.
Class
None
Card
Can't turn into a card!
Mug (50%)
Cottage (100%)
Item drop (59%)
Card Drop (0%)
Nothing
Draw
Firaga
Thundaga
Blizzaga
Dispel
Devour
Couldn't Devour!
Abilities
Charge, Machine Gun, Curaga, Reflect, Aura, Meltdown
Other information
None
| Lv | HP | STR | MAG | VIT | SPR | SPD | EVA | EXP |
| --- | --- | --- | --- | --- | --- | --- | --- | --- |
| 1 | 148 | 3 | 6 | 36 | 38 | 6 | 2 | 30 |
| 2 | 157 | 4 | 7 | 36 | 38 | 6 | 2 | 35 |
| 3 | 167 | 5 | 8 | 36 | 38 | 6 | 2 | 40 |
| 4 | 178 | 6 | 10 | 36 | 38 | 6 | 2 | 45 |
| 5 | 190 | 8 | 11 | 36 | 38 | 6 | 2 | 50 |
| 6 | 202 | 9 | 12 | 36 | 38 | 7 | 3 | 55 |
| 7 | 215 | 11 | 13 | 36 | 38 | 7 | 3 | 60 |
| 8 | 229 | 12 | 15 | 37 | 38 | 7 | 3 | 65 |
| 9 | 244 | 13 | 16 | 37 | 38 | 7 | 3 | 70 |
| 10 | 260 | 15 | 17 | 37 | 38 | 7 | 3 | 75 |
| Lv | HP | STR | MAG | VIT | SPR | SPD | EVA | EXP |
| --- | --- | --- | --- | --- | --- | --- | --- | --- |
| 11 | 276 | 16 | 18 | 37 | 38 | 7 | 3 | 80 |
| 12 | 293 | 17 | 20 | 37 | 38 | 7 | 3 | 85 |
| 13 | 311 | 19 | 21 | 37 | 38 | 7 | 3 | 90 |
| 14 | 330 | 20 | 22 | 37 | 38 | 7 | 3 | 95 |
| 15 | 350 | 22 | 23 | 37 | 38 | 7 | 3 | 100 |
| 16 | 370 | 23 | 25 | 38 | 38 | 7 | 3 | 105 |
| 17 | 391 | 24 | 26 | 38 | 38 | 7 | 3 | 110 |
| 18 | 413 | 25 | 27 | 38 | 38 | 8 | 4 | 115 |
| 19 | 436 | 26 | 28 | 38 | 38 | 8 | 4 | 120 |
| 20 | 460 | 28 | 29 | 38 | 38 | 8 | 4 | 125 |
| Lv | HP | STR | MAG | VIT | SPR | SPD | EVA | EXP |
| --- | --- | --- | --- | --- | --- | --- | --- | --- |
| 21 | 484 | 29 | 30 | 38 | 38 | 8 | 4 | 130 |
| 22 | 509 | 31 | 32 | 38 | 38 | 8 | 4 | 135 |
| 23 | 535 | 32 | 33 | 38 | 38 | 8 | 4 | 140 |
| 24 | 562 | 33 | 34 | 39 | 38 | 8 | 4 | 145 |
| 25 | 590 | 35 | 35 | 39 | 38 | 8 | 4 | 150 |
| 26 | 618 | 36 | 37 | 39 | 38 | 8 | 4 | 155 |
| 27 | 647 | 37 | 38 | 39 | 38 | 8 | 4 | 160 |
| 28 | 677 | 38 | 39 | 39 | 38 | 8 | 4 | 165 |
| 29 | 708 | 39 | 40 | 39 | 38 | 8 | 4 | 170 |
| 30 | 740 | 41 | 42 | 39 | 38 | 9 | 5 | 175 |
| Lv | HP | STR | MAG | VIT | SPR | SPD | EVA | EXP |
| --- | --- | --- | --- | --- | --- | --- | --- | --- |
| 31 | 772 | 42 | 43 | 39 | 38 | 9 | 5 | 180 |
| 32 | 805 | 44 | 44 | 40 | 39 | 9 | 5 | 185 |
| 33 | 839 | 45 | 45 | 40 | 39 | 9 | 5 | 190 |
| 34 | 874 | 46 | 47 | 40 | 39 | 9 | 5 | 195 |
| 35 | 910 | 48 | 47 | 40 | 39 | 9 | 5 | 200 |
| 36 | 946 | 49 | 49 | 40 | 39 | 9 | 5 | 205 |
| 37 | 983 | 50 | 50 | 40 | 39 | 9 | 5 | 210 |
| 38 | 1021 | 51 | 51 | 40 | 39 | 9 | 5 | 215 |
| 39 | 1060 | 52 | 52 | 40 | 39 | 9 | 5 | 220 |
| 40 | 1100 | 54 | 54 | 41 | 39 | 9 | 5 | 225 |
| Lv | HP | STR | MAG | VIT | SPR | SPD | EVA | EXP |
| --- | --- | --- | --- | --- | --- | --- | --- | --- |
| 41 | 1140 | 55 | 55 | 41 | 39 | 9 | 5 | 230 |
| 42 | 1181 | 56 | 56 | 41 | 39 | 10 | 6 | 235 |
| 43 | 1223 | 57 | 57 | 41 | 39 | 10 | 6 | 240 |
| 44 | 1266 | 59 | 59 | 41 | 39 | 10 | 6 | 245 |
| 45 | 1310 | 60 | 59 | 41 | 39 | 10 | 6 | 250 |
| 46 | 1354 | 61 | 61 | 41 | 39 | 10 | 6 | 255 |
| 47 | 1399 | 63 | 62 | 41 | 39 | 10 | 6 | 260 |
| 48 | 1445 | 64 | 63 | 42 | 39 | 10 | 6 | 265 |
| 49 | 1492 | 65 | 64 | 42 | 39 | 10 | 6 | 270 |
| 50 | 1540 | 67 | 66 | 42 | 39 | 10 | 6 | 275 |
| Lv | HP | STR | MAG | VIT | SPR | SPD | EVA | EXP |
| --- | --- | --- | --- | --- | --- | --- | --- | --- |
| 51 | 1588 | 68 | 67 | 42 | 39 | 10 | 6 | 280 |
| 52 | 1637 | 69 | 68 | 42 | 39 | 10 | 6 | 285 |
| 53 | 1687 | 70 | 69 | 42 | 39 | 10 | 6 | 290 |
| 54 | 1738 | 71 | 70 | 42 | 39 | 11 | 7 | 295 |
| 55 | 1790 | 73 | 71 | 42 | 39 | 11 | 7 | 300 |
| 56 | 1842 | 74 | 73 | 43 | 39 | 11 | 7 | 305 |
| 57 | 1895 | 75 | 74 | 43 | 39 | 11 | 7 | 310 |
| 58 | 1949 | 76 | 75 | 43 | 39 | 11 | 7 | 315 |
| 59 | 2004 | 77 | 76 | 43 | 39 | 11 | 7 | 320 |
| 60 | 2060 | 79 | 77 | 43 | 39 | 11 | 7 | 325 |
| Lv | HP | STR | MAG | VIT | SPR | SPD | EVA | EXP |
| --- | --- | --- | --- | --- | --- | --- | --- | --- |
| 61 | 2116 | 80 | 78 | 43 | 39 | 11 | 7 | 330 |
| 62 | 2173 | 81 | 80 | 43 | 39 | 11 | 7 | 335 |
| 63 | 2231 | 82 | 81 | 43 | 39 | 11 | 7 | 340 |
| 64 | 2290 | 84 | 82 | 44 | 40 | 11 | 7 | 345 |
| 65 | 2350 | 85 | 83 | 44 | 40 | 11 | 7 | 350 |
| 66 | 2410 | 86 | 85 | 44 | 40 | 12 | 8 | 355 |
| 67 | 2471 | 87 | 85 | 44 | 40 | 12 | 8 | 360 |
| 68 | 2533 | 89 | 87 | 44 | 40 | 12 | 8 | 365 |
| 69 | 2596 | 90 | 88 | 44 | 40 | 12 | 8 | 370 |
| 70 | 2660 | 91 | 89 | 44 | 40 | 12 | 8 | 375 |
| Lv | HP | STR | MAG | VIT | SPR | SPD | EVA | EXP |
| --- | --- | --- | --- | --- | --- | --- | --- | --- |
| 71 | 2724 | 92 | 90 | 44 | 40 | 12 | 8 | 380 |
| 72 | 2789 | 94 | 92 | 45 | 40 | 12 | 8 | 385 |
| 73 | 2855 | 95 | 92 | 45 | 40 | 12 | 8 | 390 |
| 74 | 2922 | 96 | 94 | 45 | 40 | 12 | 8 | 395 |
| 75 | 2990 | 97 | 95 | 45 | 40 | 12 | 8 | 400 |
| 76 | 3058 | 98 | 96 | 45 | 40 | 12 | 8 | 405 |
| 77 | 3127 | 100 | 97 | 45 | 40 | 12 | 8 | 410 |
| 78 | 3197 | 101 | 98 | 45 | 40 | 13 | 9 | 415 |
| 79 | 3268 | 102 | 99 | 45 | 40 | 13 | 9 | 420 |
| 80 | 3340 | 103 | 101 | 46 | 40 | 13 | 9 | 425 |
| Lv | HP | STR | MAG | VIT | SPR | SPD | EVA | EXP |
| --- | --- | --- | --- | --- | --- | --- | --- | --- |
| 81 | 3412 | 104 | 102 | 46 | 40 | 13 | 9 | 430 |
| 82 | 3485 | 106 | 103 | 46 | 40 | 13 | 9 | 435 |
| 83 | 3559 | 107 | 104 | 46 | 40 | 13 | 9 | 440 |
| 84 | 3634 | 108 | 105 | 46 | 40 | 13 | 9 | 445 |
| 85 | 3710 | 109 | 106 | 46 | 40 | 13 | 9 | 450 |
| 86 | 3786 | 110 | 108 | 46 | 40 | 13 | 9 | 455 |
| 87 | 3863 | 111 | 109 | 46 | 40 | 13 | 9 | 460 |
| 88 | 3941 | 113 | 110 | 47 | 40 | 13 | 9 | 465 |
| 89 | 4020 | 114 | 111 | 47 | 40 | 13 | 9 | 470 |
| 90 | 4100 | 115 | 112 | 47 | 40 | 14 | 10 | 475 |
| Lv | HP | STR | MAG | VIT | SPR | SPD | EVA | EXP |
| --- | --- | --- | --- | --- | --- | --- | --- | --- |
| 91 | 4180 | 116 | 113 | 47 | 40 | 14 | 10 | 480 |
| 92 | 4261 | 117 | 114 | 47 | 40 | 14 | 10 | 485 |
| 93 | 4343 | 118 | 115 | 47 | 40 | 14 | 10 | 490 |
| 94 | 4426 | 120 | 117 | 47 | 40 | 14 | 10 | 495 |
| 95 | 4510 | 121 | 118 | 47 | 40 | 14 | 10 | 500 |
| 96 | 4594 | 122 | 119 | 48 | 41 | 14 | 10 | 505 |
| 97 | 4679 | 123 | 120 | 48 | 41 | 14 | 10 | 510 |
| 98 | 4765 | 124 | 121 | 48 | 41 | 14 | 10 | 515 |
| 99 | 4852 | 125 | 122 | 48 | 41 | 14 | 10 | 520 |
| 100 | 4940 | 127 | 123 | 48 | 41 | 14 | 10 | 525 |
Elite Soldier is an enemy from Final Fantasy VIII. They are Galbadian officers that act together with G-Soldiers and can use recovery magic.
Other appearances
Edit

This article or section is a stub about an enemy in Final Fantasy Record Keeper. You can help the Final Fantasy Wiki by expanding it.
Related enemies
Edit
Ad blocker interference detected!
Wikia is a free-to-use site that makes money from advertising. We have a modified experience for viewers using ad blockers

Wikia is not accessible if you've made further modifications. Remove the custom ad blocker rule(s) and the page will load as expected.