Elf
Talk

3
13,964 pages on
this wiki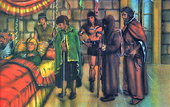 This article is about the race from the original Final Fantasy and Final Fantasy: The 4 Heroes of Light. For the Final Fantasy XI race, see Elvaan. For the Final Fantasy XIV race, see Elezen.
The Elves (エルフ, Erufu?) are a race in the Final Fantasy series.
Appearances
Edit
The elves in original Final Fantasy that reside in Elfheim. Their leader is the Prince of Elfheim, and they are related to the Dark Elves, the leader of whom has cast the Prince of Elfheim into a deep sleep. Because the elves have four magic shops in their town and are of relatively small stature, it could be assumed that they favor magic over physical might.

A Dark Elf stole the Crystal from Troia, and took it into his lair in the Lodestone Cavern that has a powerful magnetic field inside. Edward uses his harp through the Whisperweed to disband the magnetic field and give Cecil's party a chance to equip metal weapons and fight the Dark Elf.
The Dark Elf's spirit resides in the Crystal Chamber of the Lodestone Cavern and attacks Palom and Leonora. When the elf transforms into a dragon, he resists their magic. The Mysterious Girl destroys him with the Eidolon, Shiva.
The elves live in Arbor. They appear humanoid, but keep to themselves. The forest of Arbor is considered sacred by the elves and trespassing humans are turned into plants. The elves have the power to converse with animals, and to turn people into animals as well. The elves are led by the Queen who resides in Arbor.
The Elves make an appearance in this game; Frey, the secret identity of the Old Man, is their king.

An elf is a being of Germanic mythology. Elves were originally thought of as a race of divine beings endowed with magical powers, which they use both for the benefit and the injury of mankind. In medieval Norse mythology elves were divided into light elves and dark elves. In early modern folklore elves were associated with the fairies of Romance folklore, and assumed a diminutive size. 19th-century Romanticism attempted to restore them to full stature, making them men and women of great beauty. From their depiction in Romanticism, elves entered the 20th-century high fantasy genre in the wake of the published work of J.R.R. Tolkien.
Modern fantasy literature has revived the elves as a race of semi-divine beings of human stature who are friendly with animals. Post-Tolkien fantasy elves (popularized by the Dungeons & Dragons role-playing game) tend to be more beautiful and wiser than humans, with sharper senses and perceptions. The elves in Final Fantasy most likely draw influence from this source as well, as the original Final Fantasy was heavily influenced by Dungeons & Dragons in particular.