Elemental Magic is a recurring skill set and type of magic in the Final Fantasy series. Its spells focus on dealing Elemental damage.
Appearances
Edit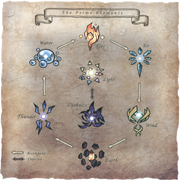 In Final Fantasy XI, Elemental Magic is a subtype of Black Magic, and is available to several classes: Black Mage; Dark Knight; Red Mage; Scholar and Geomancer.
The -helix family of spells is excuslive to Scholars.
Elemental Magic is the skill set of the Elementalist, and features elemental healing spells as an alternative to White Magick's Holy-elemental healing magic.
Ad blocker interference detected!
Wikia is a free-to-use site that makes money from advertising. We have a modified experience for viewers using ad blockers

Wikia is not accessible if you've made further modifications. Remove the custom ad blocker rule(s) and the page will load as expected.