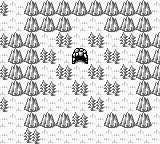 Elan (イレム, Iremu?) is a location in Final Fantasy Legend III. Granny founded Elan, and she runs the magic shop at the center of town. A spa can be found in the basement of the Inn, which will restore HP. There is a hidden passage in the spa that will lead to the magic shop. If the player enters the magic shop in the present, they will meet Granny, who will speak to them as well as attend to the shop's normal business. Cronos lives in the large house, and he ends up giving the Past unit to the party.
When the party arrives in Elan in the Past World, a young Cronos informs them that Granny went to rescue Lara in the Southeast Cave.
After successfully rescuing Lara from Dogra's clutches, Arthur tells Granny that he wants to take her to see the Elder in his era. Granny agrees to Arthur's request and she also gives Arthur the Dive spell, which will allow him to dive under the oceans and explore the seafloor.
Arthur returns back to the present, Cronos tells him that he found where the Future Unit is located. A monster called Ashura in South Tower has it. Cronos duplicated the tower key and gives it to Arthur, who then leaves for South Tower.
Arthur makes a short visit to Elan in the Future World, where an older Cronos tells him to go help the people of Viper to the west. And before he goes there, Cronos tells him to go see Granny at the Inn as she does not have long to live. Arthur visit Granny, and she tell him that Sol has already been taken to Pureland and she also gives him the spell Morph. Telling him to go to Muu and cast the spells on themselves and so he can talk to the WaterHags. Granny passes away after the conversation.
In Pureland, in the floating city of Cirrus. Arthur learns that King Clamin is from Elan.
| Name | Cost |
| --- | --- |
| Gold | 400 G |
| Battle | 400 G |
| Psi | 600 G |
| Napalm | 500 G |
| Name | Cost |
| --- | --- |
| Gold | 400 G |
| Battle | 400 G |
| Psi | 600 G |
| Napalm | 500 G |

| Name | Cost |
| --- | --- |
| Plume | 500 G |
| Bronze | 400 G |
| Bronze | 400 G |
| Bronze | 500 G |
| Name | Cost |
| --- | --- |
| Cure1 | 50 G |
| Relax | 200 G |
| Awake | 200 G |
| Calm | 200 G |
| Defense | 1500 G |
| Speed | 1500 G |

| Name | Cost |
| --- | --- |
| Cure1 | 400 G |
| Spark | 700 G |
| Ice 1 | 400 G |
| Venom | 700 G |
| Name | Cost |
| --- | --- |
| Tomhawk | 1700 G |
| Blitz | 1700 G |
| TearGas | 1700 G |
| Headbut | 2400 G |

| Name | Cost |
| --- | --- |
| Brooch | 1600 G |
| Gold | 1700 G |
| Gold | 1700 G |
| Mage | 2600 G |
| Name | Cost |
| --- | --- |
| Cure2 | 150 G |
| Soft | 200 G |
| Antedot | 200 G |
| EyeDrop | 200 G |
| HP | 1500 G |
| Attack | 1500 G |
Dive
Morph