Eidolon (Final Fantasy IV)
Talk

0
16,670 pages on
this wiki
Cid

:

Oh, shut up and help me remodel the Eidolon (Final Fantasy IV) page!

Please expand this article into a full one. This can be done by Story, state which Eidolon can be permanently missed, their location fought, how to recruit them, etc for FFIV:TAY. This request can be discussed on the associated

discussion page

.
The queen of the Eidolons told me this: The wheels of a fate greater than us all are turning now. She told me we must stand against it... and we must stand together.
Eidolons, known previous to the Nintendo DS remake as Summoned Monsters or Phantom Beasts (幻獣, Genjū?), are the summons of Final Fantasy IV, Final Fantasy IV -Interlude-, and Final Fantasy IV: The After Years. Eidolons are clearly differentiated from other monsters; they are intelligent, can speak the human language, and refer to the monsters Cecil and his companions fight as their cousins. They build shops, manufacture and sell items to the rare traveler that finds their world, write books, and so forth.
Eidolons can be summoned by Rydia using the Summon ability.
Because of their isolation, Eidolons are naturally wary of humans who are not Summoners. The bond between an Eidolon and their Summoner is unique. The Summoner must first defeat an Eidolon in battle, then they can use them as a summon. If the Summoner's Eidolon is killed, the Summoner dies as well.
The Eidolons live in the Feymarch, a plane usually inaccessible to humans, although a portal to this world exists in the Underworld and Leviathan is able to travel to and from the surface world by undisclosed means. In Feymarch time flows faster than normal, and a few weeks or months in the human world can be years in the Feymarch. According to the books in the library in this world, Leviathan and his queen, Asura, are the rulers of the world, but Bahamut is their God and the ruler of all monsters. Bahamut lives on the Red Moon.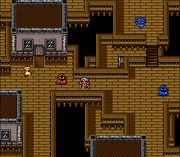 Young Eidolons are called Whytkins, and take the form of Rydia's Eidolon Whyt. In this form, they can grow to take on the forms seen in the other Eidolons. Whyt and his parents stay Whytkins so that new Eidolon children can be born. Though Whytkin have no abilities of their own, they have hidden potential that allows their power to be greatly increased. Not all Eidolons grow up from Whytkin, however - at least one, Odin, is born from a deceased Dark Knight instead through undisclosed means.
Eidolons in Final Fantasy IV seem to take on humanoid forms. Leviathan introduces himself as merely "some old man" until the party defeats Asura. In the Lair of the Father, Bahamut appears as a robed man wearing a head ornament. His two guards also take the form of children.
List of Eidolons
Edit
With the exception of Whyt from the Final Fantasy IV DS version, all of the Eidolons and their attacks from Final Fantasy IV are the same in Final Fantasy -Interlude- and Final Fantasy IV: The After Years. They also happen to appear in every sequels.
Other Appearances
Edit
Some of the Eidolons from Final Fantasy IV appear in Final Fantasy Airborne Brigade.
Other Appearances
Edit
Leviathan from Final Fantasy IV appears as a boss in Final Fantasy Record Keeper.

Some Eidolons have cards in the Japanese Final Fantasy trading card game.

Etymology
Edit
[view  · edit  · purge]Eidolon is a Greek word for "unsubstantial image", "reflection" or "phantom", additionally meaning "ideal", from which the Latin word Idolum comes. Idol is "a representation or symbol of an object of worship".
In the English localization of the DS version, "Eidolon" is pronounced aɪˈdoʊɫ.ən (aye-doh-lon). The summons in Final Fantasy IV did not have a specific name until the DS version of Final Fantasy IV was released. The game's translator, Tom Slattery, was the one to choose the term "Eidolon":
Every other Final Fantasy had given them a name–Espers, Eidolons, Guardian Forces–but Final Fantasy IV simply called them 'summons,' or 'summoned monsters'. 'Esper' had just been revived for XII and 'Eidolon' hadn't seen any love outside of IX, so I brought it back for IV and then for XIII as well.
—Tom Slattery[1]
References
Edit