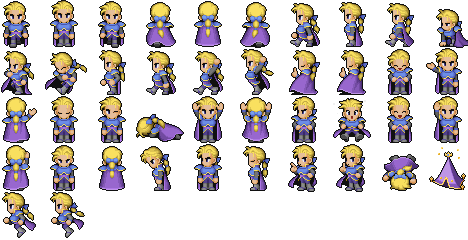 Edgar is a playable character in Final Fantasy VI. Edgar's job wasn't listed within the Super Nintendo version of the North American game. It was removed. Within the Final Fantasy III Nintendo Player's Guide, his job is given as Mechanic. The English Gameboy Advance version retained the job titles and Edgar is a Machinist.
Edgar is a Machinist, and his special ability is Tools, allowing him to attack enemies with one of eight special weapons. His physical stats are high, but his Evasion, Speed and magical stats are low. He can equip all swords, spears, shields, as well as a few daggers and most heavy armor.
Edgar begins with a Mythril Sword, Buckler, Leather Hat and Leather Armor.
Recruitment
Edit
In the World of Balance, Edgar is available at points in the story.
In the World of Ruin, Edgar is first found in Nikeah, posing as "Gerad". He must be followed through South Figaro and South Figaro Cave through a secret passage to Figaro Castle, where the party fights with him to defeat Tentacle and then recruits him.
Abilities
Edit

Edgar's ability is Tools, which allows him to use various machines to create various effects. Tools are found as items and there are eight in total. Tools can be sold. The Tools command may also be used by the optional character Gogo.
Edgar's tools must be purchased in Figaro Castle or found before he can use them. Having Edgar as the field character gives the player a 50% discount when buying from the merchants in Figaro Castle. Edgar's Desperation Attack is Royal Shock that deals magical damage to one enemy.

Edgar has the second highest defense and high physical stats, but low Evasion, magic stats and Speed.
Level
HP
MP
EXP
+
1
49
6
0
2
60
10
32
3
72
14
96
4
86
19
208
5
103
24
400
6
123
30
672
7
145
36
1056
8
169
43
1552
9
195
51
2184
10
222
59
2976
11
250
68
3936
12
280
77
5080
13
315
87
6432
14
354
97
7992
15
398
107
9784
16
448
117
11840
17
502
127
14152
18
559
138
16736
19
620
149
19616
20
685
160
22832
21
752
171
26360
22
821
182
30232
23
893
194
34456
24
969
206
39056
25
1048
218
44072
26
1130
230
49464
27
1216
242
55288
28
1306
255
61568
29
1401
268
68304
30
1500
281
75496
31
1600
294
83184
32
1701
307
91384
33
1803
321
100088
34
1905
335
109344
35
2008
349
119136
36
2112
363
129504
37
2218
377
140464
38
2325
392
152008
39
2433
407
164184
40
2543
422
176976
41
2654
437
190416
42
2767
452
204520
43
2881
468
219320
44
2997
484
234808
45
3114
500
251000
46
3233
516
267936
47
3353
532
285600
48
3475
549
304040
49
3600
566
323248
50
3728
583
343248
51
3858
599
364064
52
3989
614
385696
53
4122
628
408160
54
4256
641
431488
55
4392
653
455680
56
4529
664
480776
57
4668
674
506760
58
4810
683
533680
59
4954
691
561528
60
5099
698
590320
61
5246
704
620096
62
5394
709
650840
63
5544
714
682600
64
5696
720
715368
65
5849
726
749160
66
6004
733
784016
67
6160
740
819920
68
6318
747
856920
69
6478
755
895016
70
6640
763
934208
71
6800
771
974536
72
6955
779
1016000
73
7106
787
1058640
74
7251
794
1102456
75
7391
801
1147456
76
7527
808
1193648
77
7659
814
1241080
78
7785
820
1289744
79
7905
826
1339672
80
8022
832
1390872
81
8135
837
1443368
82
8245
842
1497160
83
8353
847
1552264
84
8458
852
1608712
85
8560
857
1666512
86
8660
862
1725688
87
8758
867
1786240
88
8853
873
1848184
89
8945
879
1911552
90
9035
885
1976352
91
9123
891
2042608
92
9210
897
2110320
93
9295
904
2179504
94
9378
912
2250192
95
9460
921
2322392
96
9540
931
2396128
97
9623
942
2471400
98
9709
954
2548224
99
9797
967
2637112
Equipment
Edit
| Shields | Helmets | Body Armor |
| --- | --- | --- |
| | | |