Edea Kramer
Talk

88
16,377 pages on
this wiki
Edea Kramer
Portrait
Japanese Name
イデア・クレイマー
Romaji
Idea Kureimā
Hometown
Unknown
Date of Birth
Unknown
Age
Between 35-43
Blood Type
Unknown
Height
5' 6" (167 cm)
Eye Color
Tawny green
Hair Color
Black
Weapon
None
Ultimate Weapon
Limit Break
Ice Strike
Final Fantasy VIII Character
You must fight to the end! Even though it may bring tragedy to others!
—Edea Kramer
Edea Kramer, also known as Sorceress Edea, or Matron (ママ先生, Mama-Sensei?), is a temporary-playable character from Final Fantasy VIII. A mysterious woman appointed as ambassador to Galbadia, she acts as the primary antagonist of the first half of the game.
Appearance
Edit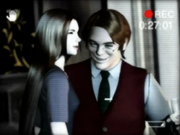 Edea is refined, sophisticated, and ladylike, traits particularly evident during her possession when Ultimecia used Edea's sophistication and great physical beauty to their optimum effect to beguile her enemies. She has long black hair and brown eyes that are yellow when possessed by Ultimecia.
Normally she wears a modest black dress with little jewellery, but while possessed by Ultimecia, Edea wears a purple skin-tight dress with a plunging neckline and feathers around the collar, a headpiece adorned with jewels and a metallic half-circle frame on her back with two long strips of sheer material hanging down on each side. Before revealing her face at the parade, Edea wears a red mask to conceal her identity. During close-ups of her face during FMVs, white lines can be observed extending from the corner of her eye and cheek.
Personality
Edit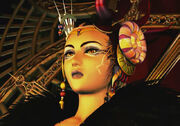 Edea is a temporary playable character, controllable during the party's trek across the Great Salt Lake and during the time Lunatic Pandora attacks Esthar City. She must equip Guardian Forces to be able to use magic in battle, but has no equippable weapon and can use the Attack command without one.
Edea's physical weapon is the "None". Physically weak, None is further hampered by its inability to be upgraded. Her Limit Break, while powerful, is also fairly limited, as she only has one command and it only deals damage to one target. Unsurprisingly Edea has potent Magic and Spirit scores, and also possesses good compatibility with every Guardian Force in the game. Edea has low HP, Strength, and Vitality, and her Speed and Luck are none too great either. She is the epitome of the traditional Black Mage class, excelling at magic, but little else.

The ultimate manifestation of Edea's sorceress power is her Limit Break, Ice Strike (冷徹なる一撃, Reitetsunaru Ichigeki?). When activated, she summons several large icicles that are magically hurled at the target, dealing massive damage. Edea's Limit Break's strength is unaffected by Crisis Level and its attack power is 120.
This Limit Break is also seen at the end of Disc One, where she uses it on Squall with near-lethal effects.
Ice Strike is a subset of Edea's skillset called Sorcery (魔導, Madō?). Yet, at the point Edea is playable, she had already lost her sorceress powers, so it seems rather curious she can still use the Limit Break.
However, she actually only lost the powers that were transferred to her by the dying Sorceress Ultimecia long before the start of the game. She retained the powers she already possessed, which focused on ice magic. As Edea explains to Squall after he defeats Ultimecia, she was already a sorceress, and so would accept Ultimecia's powers to spare any of the children from becoming one. Ultimecia's powers were focused on time/space magic, which might explain Rinoa's Angel Wing limit break.
| LV | HP | Str | Vit | Mag | Spr | Spd | Luck |
| --- | --- | --- | --- | --- | --- | --- | --- |
| 1 | 209 | 0 | 0 | 11 | 8 | 16 | 10 |
| 10 | 566 | 6 | 2 | 18 | 14 | 18 | 11 |
| 20 | 954 | 12 | 5 | 25 | 20 | 19 | 11 |
| 30 | 1334 | 18 | 7 | 31 | 25 | 21 | 12 |
| 40 | 1707 | 23 | 10 | 36 | 30 | 22 | 12 |
| 50 | 2071 | 27 | 12 | 41 | 34 | 24 | 13 |
| 60 | 2428 | 31 | 14 | 45 | 37 | 25 | 13 |
| 70 | 2777 | 34 | 16 | 48 | 40 | 27 | 14 |
| 80 | 3119 | 37 | 17 | 51 | 42 | 28 | 14 |
| 90 | 3452 | 39 | 18 | 54 | 44 | 30 | 15 |
| 100 | 3777 | 41 | 20 | 55 | 45 | 31 | 15 |
Main article: Edea (Boss)
Edea is fought twice in the game; the first time after the sorceress parade, and the second in Galbadia Garden. Before fighting Edea the first time, Squall faces off against his rival, Seifer, alone. After defeating him, Rinoa and Irvine arrive to help Squall, and Edea takes the stage. The battle is scripted and can't end in a Game Over, but if the player defeats Edea they get battle rewards.
When confronting Edea for the second time at Galbadia Garden, the party must again defeat Seifer before they can touch her. During this second confrontation, the party can draw the Guardian Force Alexander.

Creation and Development
Edit
Edea's character was designed for Final Fantasy VII,[1] and Tetsuya Nomura intended the design to emulate the style of Yoshitaka Amano. It was not until Final Fantasy VIII Nomura found a way to use her.

Musical Themes
Edit
There are two themes accompanying Edea's presence. "SUCCESSION OF WITCHES" is the song that accompanies her when she is possessed by Ultimecia, most notably played when Edea/Ultimecia first encounters Seifer in Timber. The other theme is called "Truth", and plays at Edea's Orphanage after the revelation of her possession.
Other Appearances
Edit
An icon sprite of Edea appears in the Pocket Station memorycard file manager.

Main article: Ultimecia/Dissidia
Although not mentioned in the game, the player has an option to switch Ultimecia's normal outfit to Edea's outfit in Dissidia 012 Final Fantasy.
Not featured in the first Dissidia game, the new outfit refers to Edea's time as a puppet under Ultimecia's control. Unlike Ultimecia's other outfits, she bears no wings in her normal form or EX Modes, though her EX Mode—to junction Griever—remains the same.

Edea appears appears in her Sorceress form as an enemy.

A bewitching sorceress whose mighty magic powers have brought all of Galbadia under her supreme command. Bears a deep animosity toward SeeD and attempts to eradicate every last one of its members.
—Character Description
Edea is an ally, a summonable Legend and a boss in Final Fantasy Airborne Brigade. Her EX ability is Maelstrom.
Edea appears in the Final Fantasy Trading Card Game and is represented in Thunder-elemental cards. One pictures her render with the words "Fithos Lusec Wecos Vinosec" inscribed in front of her, one uses her Final Fantasy VIII official artwork, and one is her appearance in Theatrhythm Final Fantasy Curtain Call.
Etymology
Edit
[view  · edit  · purge]"Edea" is a female name with French and Australian origins. It may also be derived from a Greek goddess called "Medeia" (Latinised as "Medea") who was a sorceress; her name also means "cunning".
[view  · edit  · purge]Kramer is a Dutch and Low German word for a small merchant, hawker, or retailer and is a common occupational surname. It can also be an Anglicized version of the High German surname Krämer.
The metallic half-circle holding Edea's cape is similar to the one worn by Wrexsoul in Final Fantasy VI. It only appears during FMV scenes and battles, but is not present in her field model.
Edea is the only playable character who holds her own Triple Triad card. She is one of the toughest Triple Triad opponents in the game, due to the Centra ruleset and a noticeably smarter AI than most Triple Triad players.
References
Edit