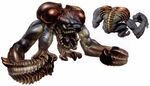 Eater is a type of fiend in Final Fantasy X and Final Fantasy X-2. Its members are classified by their small body, forked tongue, and long arms. They are known to devour many different sources of food. In battle, they possess high Strength and Defense, making them difficult to deal with unless knocked it onto their backside.
In Final Fantasy X-2 it takes six kills to Oversoul an Eater.
Eater Coin
Coin No.
46
Coin Value
3
Trait
Rare Coin
Location
Found in the Central Expanse of the Bikanel Desert.
Ad blocker interference detected!
Wikia is a free-to-use site that makes money from advertising. We have a modified experience for viewers using ad blockers

Wikia is not accessible if you've made further modifications. Remove the custom ad blocker rule(s) and the page will load as expected.