White Mage
:
Life's refreshing breeze, blow in energy! Cure!
This article can be improved in areas such as link to weapons's articles.
Please refer to the
Manual of Style
or
Editing Help
to get started.
Relm
:
I couldn't miss the chance to practice my drawing!
This article is in need of a few pictures. Perhaps you can help by uploading a picture of Dark Cannon, Chainsaw, Divine Malison.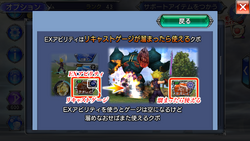 EX Ability or simply EX, is a gameplay term from Dissidia Final Fantasy Opera Omnia. It serves as the Limit Break system, granting access to an ultimate, exclusive ability for each character. The character needs to be equipped with their unique weapon in order to make their individual EX Ability available. By upgrading the weapon through Limit Break, the EX Ability will be upgraded with additional passives.
EX Abilities are currently exclusive to the Japanese release, and are given to select characters through updates. Starting with Garnet, characters whose Lost Chapters are added will have EX Abilities added to their arsenal.
List of EX Abilities
Edit
Character
EX Ability
Weapon
Image
Warrior of Light
Shining Wave

シャイニングウェーブ

Ice Brand (I)
2-HIT BRV+HP attack.

BRV potency is based on the Shield durability values of all party members. Greatly recovers all party members' HP based on HP damage dealt for up to 10% of their Max HP. Upon recovering HP, if the healing amount exceeds the target's Max HP, the excess is converted to BRV. Grants Medium Speed Up for 5 turns.

Firion
Weaponsmaster

マスターオブアームズ

Sun Blade (II)
3-HIT stronger AoE BRV+HP attack.

100% HP damage dealt to all targets.

Maria
Explosive Bow

爆裂弓

Dark Bow (II)
3-HIT BRV+HP attack.

Deals 50% splash damage to other enemies. Inflicts Explosion for 5 turns. Explosion steals a certain amount of BRV at the end of the turn.

Onion Knight
Blade Torrent/Comet

流剣の舞/プチメテオ

Serpent Sword (III)


Blade Torrent


6-HIT BRV+HP attack + 6-HIT BRV+HP attack with low action delay. Grants 3 Ninja stacks (max). Turns into Meteorite if Sage is active.
Comet
6-HIT AoE BRV + single target HP attack. BRV hits are dispersed if there is more than one enemy. Grants 3 Sage stacks (max). Turns into Blade Torrent if Ninja or no stance is active.

Cecil (Dark Knight)
Dark Cannon

ダークカノン

Waning Crescent (IV)
200px
3-HIT BRV+HP attack (Dark).

BRV stolen from the target can overflow up to 200% of Max BRV. After using Dark Cannon, Darkness and Valiant recover 1 use (up to the initial values).

Cecil (Paladin)
Paladin Force

パラディンフォース

Waxing Crescent (IV)
6-HIT BRV+HP attack (Light)

BRV stolen from the target can overflow up to 120% of Max BRV. Deals 50% splash damage to other enemies. Inflict Light Resistance Down for 4 turns on all enemies.

Kain
Fang and Claw

竜牙竜爪

Dragoon Lance (IV)
5-HIT BRV+HP attack.

BRV stolen from the target can overflow up to 120% of Max BRV. Initiates a Chase Sequence.

Palom
Stardust

スターダスト

Stardust Rod (IV)
2-HIT AoE BRV+HP attack.

Inflicts Ice Resistance Down for 4 turns. Grants Ice Enchant for 6 turns. Follows up with a 5-HIT AoE BRV+HP attack. Moderately increases BRV damage against a single target. HP damage is equally divided among all targets.

Rydia
Summon Dragon

召喚魔法 ドラゴン

Mystic Whip (IV)
5-HIT AoE BRV+HP attack.

Ignores Defense. Moderately raises BRV damage dealt against a single target. Deals 100% HP damage to all enemies. Inflicts Water Resistance Down to all enemies for 4 turns.

Rosa
Luminous Arrow

ルミナスアロー

Elven Bow (IV)
4-HIT AoE Ranged BRV Attack + single target HP Attack.

BRV stolen can overflow up to 120% of Max BRV. Moderately increases BRV Damage if against a single target. Recovers BRV to all allies (excluding self) depending on HP Damage Dealt. On next turn, doesn't consume own ability usage.

Golbez
Twin Meteor

Wメテオ

Obsidian Scales (IV)
5-HIT Dark AoE Magic BRV + AoE HP Attack. Inflicts Dark Resistance Down to target for 4 turns, followed by another 5-HIT Dark AoE Magic BRV + AoE HP Attack. BRV stolen can overflow up to 150% of Max BRV. Moderately increased BRV damage against a single target. HP Damage Dealt is split equally amongst targets.

Grants 3 Stacks of [Shadow Dragon] to self.

Porom
White Wave

ホワイトウェーブ

Aura Staff (IV)
Bartz
Iainuki

いあいぬき

Great Sword (V)
1-HIT BRV+HP.

Slightly raises Max BRV, Attack and Speed for 5 turns.

Lenna
Brave Phoenix

ブレイブフェニックス

Aevis Killer (V)
2-HIT AoE BRV+HP attack.

Raises all party members' BRV based on Initial BRV before the BRV hits. Moderately raises BRV damage dealt against a single target. BRV stolen can overflow up to 120% Max BRV. HP damage dealt is divided equally amongst all targets. Grants Princess of Tycoon for 6 turns. Princess of Tycoon grants BRV regen and raises Initial BRV for all party members.

Terra
Riot Blade

ライオットソード

Organyx (VI)
3-HIT BRV+HP attack.

Potency increases as HP goes down. Grants Large Max BRV Up for 5 turns.

Edgar
Chainsaw

かいてんのこぎり

Trident (VI)
200px
5-HIT BRV+HP attack.

BRV stolen from the target can overflow up to 120% of Max BRV. Deals higher damage if target is a machine. Grants Machinery for 6 turns. Machinery raises BRV damage dealt based on the number of debuffs on the target.

Celes
Spinning Edge

スピニングエッジ

Stoneblade (VI)
5-HIT BRV+HP attack.

Grants Rune Knight and Medium Attack Up for 5 turns. Rune Knight increases Magic Attack, and grants BRV & HP Regen.

Locke
Mirage Dive

ミラージュダイブ

Assassin's Dagger (VI)
7-HIT BRV+HP attack.

BRV stolen from the target can overflow up to 150% of Max BRV. Grants Treasure Hunter for 6 turns. Treasure Hunter raises Max BRV, Attack and Speed. It also recovers either BRV or HP after own turn ends.

Kefka
Havoc Wing

はかいのつばさ

Stylish Hair Ornament (VI)
Cloud
Meteorain

メテオレイン

Force Stealer (VII)
6-HIT AoE BRV+HP attack.

BRV damage is spread among all targets. HP damage is divided equally between all targets. Grants Mako for 4 turns. Mako raises Max BRV and grants BRV Regen.

Tifa
Dolphin Blow

ドルフィンブロウ

Motor Drive (VII)
Sephiroth
Black Materia

ブラックマテリア

Mako Katana (VII)
Set all foes' BRV to 0 (except foes that are broken). Raises BRV based on Attack then inflicts an AoE HP attack.

Deals 100% HP damage to all enemies. Grants 1 stack of Reunion for 5 turns (max is 5). Doesn't consume ability use on the next turn. Reunion raises Max BRV and regens BRV based on the number of stacks.

Cid
Big Brawl

大乱闘

Pole Axe (VII)
200px
Zack
Apocalypse

アポカリプス

Enhance Sword (VII)
Laguna
Ragnarok Buster

ラグナロクバスター

Leopard (VIII)
200px
Squall
Assault Trigger

アサルトトリガー

Shear Trigger (VIII)
8-HIT BRV+HP attack.

Grants 1 stack of Lionheart for 5 turns. Lionheart increases Attack and Max BRV based on the number of stacks. Lionheart stacks cannot be increased by subsequent Assault Trigger uses.

Zell
Different Beat

ディファレントビート

Ehrgeiz (VIII)
Quistis
Homing Whip

ホーミングウィップ

Slaying Tail (VIII)
Rinoa
Angel Wing Meteor

ヴァリーメテオ

Rising Sun (VIII)
3-HIT AoE BRV+HP Attack repeated 3 times.

BRV hits are dispersed if there is more than 1 target. HP damage is equally divided among all targets. Grants Angel Wing for 3 turns. Dispels Angelo Recover.

Vivi
Meteor (IX)

メテオver.IX

Octagon Rod (IX)
Zidane
Booster 8

ブースター8

Exploda (IX)
2-HIT BRV+HP attack.

Grants Very Large Max BRV Up for 6 turns. Initiates a Chase Sequence if LB2 Passive Ability is learned.

Garnet
Sacred Prayer

聖なる祈り

Asura's Rod (IX)
Moderately restores all party members' HP.

Raises all party members' BRV based on Garnet's Max BRV. Grants Sacred Prayer to the party for 10 turns. Sacred Prayer grants BRV regen, Enchant Water and Enchant Thunder.

Kuja
Force Symphony

フォースシンフォニー

Turbid Cores (IX)
Tidus
Energy Rain

エナジーレイン

Force Saber (X)
6-HIT AoE BRV+HP attack.

BRV hits are dispersed if there is more than 1 target. 100% HP damage dealt to all targets. Grants Medium Attack Up and Small Speed Up for 5 turns.

Seymour
Requiem

レクイエム

Phantom Staff (X)
3-HIT AoE BRV+HP attack.

BRV damage is spread among all targets. HP damage is divided equally between all targets. Moderately increases BRV damage against a single target. Deals higher BRV damage against debuffed targets.

Auron
Dragon Fang

牙龍

Shiranui (X)
2-HIT AoE BRV+HP attack.

HP damage distributed amongst targets. Moderately increases BRV damage against a single target. Delays all targets by 1 turn. Afflicts targets with Melee Resistance Down for 3 turns. Grants Medium Physical ATK Up for 6 turns.

Jecht
Meteor Shot

ジェクトメテオ

Megalith (X)
200px
Paine
Sword Dance
Crystal Sword (X)
Shantotto
Divine Malison

ディバインマリサン

Laevateinn (XI)
200px
2-HIT BRV+HP attack (Holy).

Inflicts Divine Malison debuff to the target for 2 turns (Fire, Thunder, Wind and Holy Resistance Down).

Prishe
Nullifying Dropkick

崑崙八象脚

Glanzfaust (XI)
4-HIT BRV+HP attack that ignores Defense.

BRV stolen from the target can overflow up to 200% of Max BRV. Extends all buffs granted by self by 5 turns. Grants Medium Max BRV Up if the LB2 Passive Ability is learned.

Vaan
Pyroclasm

メルトクリムゾン

Demonsbane (XII)
4-HIT stronger BRV+HP attack (Fire).

BRV stolen from the target can overflow up to 120% of Max BRV. Inflicts 20% splash damage to other targets.

Ashe
Maelstrom's Bolt

天鼓雷音稲妻斬

Sword of Kings (XII)
5-HIT BRV+HP attack.

BRV stolen can overflow up to 150%. Grants Haō no Kechimyaku for 6 turns. Haō no Kechimyaku raises Max BRV and Attack.

Vayne
Tree of Sephira

セフィラの大樹

Enigma (XII)
Vanille
Death (XIII)

デスver.XIII

Tigerclaw (XIII)
Lightning
Army of One

シーンドライブ

Overture (XIII)
Army of One


1-HIT BRV+HP attack. Followed by a 2-HIT BRV+HP attack. Followed by another 2-HIT BRV+HP. Raises BRV potency if the target is broken. Restores own HP based on total HP damage dealt for up to 10% Max HP. If the healing amount exceeds Max HP, the excess is converted to BRV. Delays the target by 1 turn. Grants Knight of Etro for 3 turns. Doesn't consume ability use on the next turn. If the Ravager stance is active, Army of One turns to Army of One+. Knight of Etro grants Thunder Enchant and raises Max BRV and Attack. If Lightning breaks an enemy while Knight of Etro is active, nullifies action delay and grants a free turn that does not count towards the total turn count (except during Summon Phase/Friend Support).
Army of One+ (Ravager stance required)
1-HIT BRV+HP attack. Followed by a 2-HIT BRV+HP attack. Followed by another 2-HIT BRV+HP. Raises BRV potency if the target is broken. Restores own HP based on total HP damage dealt for up to 10% Max HP. If the healing amount exceeds Max HP, the excess is converted to BRV. Delays the target by 2 turn. Grants Knight of Etro for 3 turns. Doesn't consume ability use on the next turn.

Serah
Ultima Arrow

アルテミスアロー

Faerie's Bow (XIII)
7-Hit BRV+HP attack.

Deals 30% HP damage to other enemies. Deals more HP damage to other enemies if the target is broken or gets broken. Inflicts Megami no Hikari to all enemies for 5 turns.

Y'shtola
Pulse of Life

生命の鼓動

Aymur (XIV)
Recovers all party members' HP based on Max HP and revives them if KOed.

Raises all party members' BRV based on Max BRV. Grants Medium Max BRV Up to all party members for 8 turns. Grants BRV Regen to self for 8 turns. After using Pulse of Life, Stone and Medica II each recover 1 use (up to the initial values). Turns HP Attack to HP Attack+ for 8 turns. HP Attack+ raises allies' BRV based on damage dealt.

Thancred
Bhavacakra

六道輪廻

Nagi (XIV)
Alisaie
Jolt II Combo

ジョルラコンボ

Murgleis (XIV)
200px
Noctis
Armiger

ファントムソード召喚

Rune Saber (XV)
12-HIT BRV+HP attack.

Grants 2 stacks of Royal Arms for 5 turns. Royal Arms grants one additional hit to the user's abilities and for each additional stack, increases Max BRV (max stacks is 5).

Ramza
Enervate

トリプルブレイク

Runeblade (T)
2-HIT BRV+HP attack.

Raises other allies' BRV based on HP damage dealt. Inflicts Triple Break on the target for 6 turns. Triple Break lowers Attack, Defense and Speed.

Agrias
Hallowed Bolt

無双稲妻突き

Save the Queen (T)
4-HIT AoE BRV+HP attack.

Moderately increases BRV damage against a single target. Deals 100% damage to all targets. Inflicts Silence to all enemies for 1 turn. Silence prevents the use of a Magic ability.

Rem
Siphon Delta

アスピルフィールド

Defender's Daggers (0)
2-hit multi-target BRV+HP attack.

100% HP damage dealt to all targets. Low action delay. Recovers all party members' HP based on HP damage dealt for up to 20% of their Max HP. Upon recovering HP, if the healing amount exceeds the target's Max HP, the excess is converted to BRV. Grants Siphon for 1 turn. Siphon nullifies ability cost (0 ability use cost). Moderately raises Attack for 5 turns.

Ace
Jackpot Shot

キャノンレーザー

Reaper's Tarot (0)
6-HIT BRV+HP attack.

BRV stolen from the target can overflow up to 150% of Max BRV. Inflicts 50% splash damage to other targets. Grants 3 cards. Raises Max BRV based on the number of cards. Removes previously granted Red Card/Black Card/Blue Card/Yellow Card buffs. Randomly grants Red, Black, Blue or Yellow Card for 5 turns. Red Card raises all party members' Attack. Black Card lowers all enemies' Speed. Blue Card grants HP and BRV regen to all party members. Yellow Card raises all party members' Max BRV and Attack.

Cinque
Whirling Mace

メイスハリケーン

Ogre Hammer (0)
200px
6-HIT AoE melee BRV + single target HP.

Moderately raises BRV damage dealt against a single target. BRV stolen can overflow up to 200% Max BRV. Raises allies' BRV based on HP damage dealt. Inflicts 5 (max) stacks of Stun to target for 4 turns. Delays target by 1 turn.

Layle
Gae Bolg

ゲイ・ボルグ

Rampage Jegon (CC)
Lann & Reynn
Sonic Fangs

ソニックファング

Alpha Arm & Gadget Knife (WO)
Activating EX Ability