Dzemael Darkhold
Talk

0
16,316 pages on
this wiki
Cid

:

Oh, shut up and help me remodel the Dzemael Darkhold page!

Please expand this article into a full one. This can be done by separate 1.0 info to Legacy page.. This request can be discussed on the associated

discussion page

.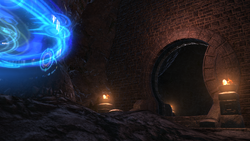 The Dzemael Darkhold is a dungeon from Final Fantasy XIV, located on the Coerthas Central Highlands. It is an expansive system of natural caverns originally planned to be used as a fortress in Ishgard's war against dragonkind. To gain entrance, players must begin (or have completed) any version of the Into The Dark quest and be in a party with at least four level 45 (or above) players.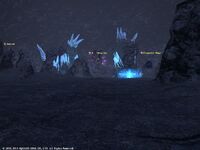 Dzemael Darkhold was intended to be Ishgard's bastion in their continuing conflict against dragonkind. However, while mining the depths of the caverns for crystals, the Ishgardians found a strange statue that came to life as they tried to move it, killing most of the miners. Knights and hired hands were called to deal with the creature, but at the precise moment they rallied to arms against the malevolent menace, Imperial troopers had stormed the Darkhold's entrance and had no trouble taking over the place.
News of the invasion of the Darkhold, apparently led by Nael Van Darnus of the VIIth legion, quickly spread over Eorzea, and the recently revived Grand Companies of Eorzea started operations to discover the reasons behind the invasion, reaching the conclusion that the Empire's interest is in the sizable crystal veins deep inside the caves, that they can harvest Ceruleum to power up their magitek weaponry, or, even worse, summon their own Primal and unleash it upon Eorzea.
The VIIth legion had long since abandoned the Darkhold as Nael Van Darnus moved foward with his plans. Since the Calamity, the structure was instead taken over by voidsent. Regardless, House Dzamael never relinquished their claim to the darkhold as their own, and hope to have it cleaned up and put to use.
The boss battles have changed dramatically. The All-Seeing Eye is slain early on, making use of the crystal auras that render it vulnerable. The "Ogre" (no longer named Deepvoid Slave) is accompanied by other ogres instead of teleporting ghosts. The end boss, Batraal, no longer spawns skeletons, but instead draws power from the nearby corrupted crystals, which need to be broken.
Objective
Edit
Treasures
Edit
Related Quests
Edit