Dungeon
Talk

4
13,963 pages on
this wiki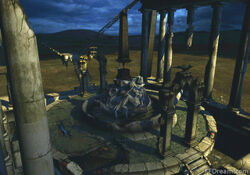 "Foul things lurk in forgotten places."
A Dungeon (ダンジョン, Danjon?) is a game element in the Final Fantasy series, in which the player is meant to explore and obtain treasure, while defeating enemies along the way. Most often, dungeons are usually caves or ancient ruins. The end of dungeons usually contain a goal: an artifact to be obtained, a boss to be defeated, or even a cutscene to be seen. Sometimes the story can only progress by completing these dungeons, and sometimes they are optional.
Dungeons are usually accessed via the World Map, but in some cases, they are accessed via other, smaller dungeons, either by passageways or warp devices, or in some rarer cases, the player is instantly taken to a dungeon due to a plot event.
A Final Dungeon exists in each game, which consists of the area where the final boss resides, waiting to be defeated. Most games also feature secret, optional dungeons, that usually either hold precious treasure inside, or incredibly strong superbosses.
Appearances
Edit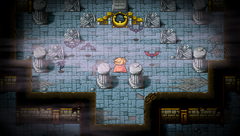 In Final Fantasy, each dungeon contains an important artifact and a boss to be defeated, with exception of the first dungeon, the Chaos Shrine, and the Mirage Tower, which is merely a path to the Flying Fortress.
List of Dungeons: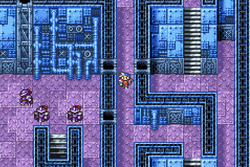 Like the previous game, almost every dungeon has a boss to defeat, a key item to be obtained, or a cutscene to be seen. This game was the first to feature a Point of No Return in dungeons. Due to Final Fantasy II's story-driven gameplay, many events take place in dungeons.
List of Dungeons: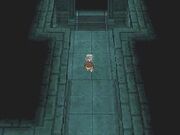 Final Fantasy III follows the series' consistency, having one boss per dungeon. This game, at the time of its release, was the first to feature optional dungeon, and also cutscenes in each of them. In some dungeons, the party is forced to induce a status ailment in order to transfigure the party so they can enter the dungeon, such as the Subterranean Lake or the Tower of Owen.
List of Dungeons: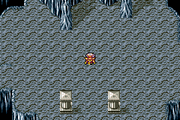 Party members often leave and join the party inside dungeons in Final Fantasy IV.
List of Dungeons:
Every dungeon cannot be revisited after leaving the area via the Falcon, this is due to the game being relative short and linear.
Every dungeon from Final Fantasy IV, with the exception of the Giant of Babil, reappears in The After Years. While many dungeons return untouched in this sequel, new ones have also been added and some existing ones have been expanded. A new series of optional dungeons named Challenge Dungeons appear in each character's tale.
List of additions: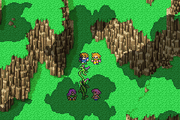 By the time of Final Fantasy V, plot events were more common at the end of dungeons than the acquisition of key items.
List of Dungeons: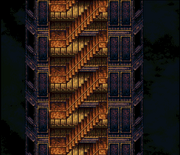 In Final Fantasy VI, the use of dungeons as pathways is very common in the World of Balance, while the World of Ruin is filled with optional dungeons which reward the player with a playable character, and in rare cases, Magicite.
List of Dungeons: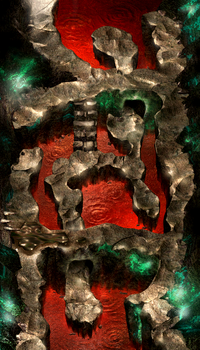 In Final Fantasy VII, many dungeons appear as either a passage or an optional dungeon. Items are found more rarely than in previous games.
List of Dungeons: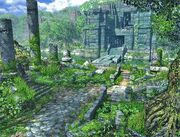 Final Fantasy VIII has a small amount of locations in comparison to earlier installments, so dungeons either end in plot events or are entirely optional. Many of the dungeons later in the game are points of no return as well.
List of Dungeons: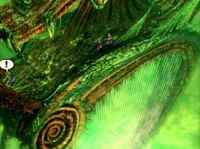 Final Fantasy IX has many dungeons when compared to its predecessor, possessing a pattern similar to earlier games in the series.
List of Dungeons:
Final Fantasy X doesn't have many dungeons, due to the fact that the world map has been abolished. Via Purifico, Mt. Gagazet, and Inside Sin are mandatory dungeons. Cloisters of Trials also has dungeon-like appearance and require completing a simple side task in order to continue with the story. Examples of optional dungeons are the Cavern of the Stolen Fayth and the Omega Ruins.
Final Fantasy X-2 introduces more dungeons, but removes Omega Ruins from the dungeons.
Final Fantasy XI, though there's no traditional world map, has a large amount of dungeon areas. These areas are distinguished by the fact enemies re-spawn more slowly, players are able to use the spell Escape and chocobos will not enter them. Almost all of these are at one point used in a mission or quest:
Original dungeons
Edit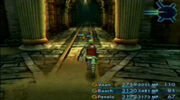 Final Fantasy XII has completely abolished the idea of a world map as well, but dungeons can be distinguished by areas that cannot be accessed via the Strahl.
List of dungeons:
Being a real-time strategy game, Revenant Wings is not considered to have many dungeons, since, like in the Tactics sub-series of the Ivalice Alliance, gameplay is restricted to battles. On the other hand, the Well of Whispered Oaths has several enemies, treasure and floors, and thus, can be considered a legitimate dungeon.
The traditional concept of dungeons largely doesn't exist in Final Fantasy XIII, with the absence of world maps and towns. On Gran Pulse, however, there are a few optional areas the player can explore, the location of the Faultwarrens being closest to a traditional Final Fantasy dungeon.
Final Fantasy Tactics has no dungeons of the traditional sense, as gameplay is limited to battles and the World Map. However, one location, Midlight's Deep, is said to be a large dungeon. In order to reach all ten levels of this optional location, the player must find the exit on each level mid-battle. At the bottom level is the game's lone Superboss.
Consumable items and ammo are found within the brown wooden chests scattered throughout the dungeons which respawn when exiting to the world map. Monsters are also respawn in the same way as the brown wooden chests.
List of Dungeons:
Each dungeon contains important items and sometimes a boss has to be defeated. Countless items, weapons, and armor can be found throughout these dungeons.
Almost every dungeon has a boss to defeat, and/or have an important item to be obtained. There are also a bunch of optional dungeon to explore which are simple to navigate and contains valuable treasures.
The "Dungeon" themes appear through various games in the series, but as the series evolved, each dungeon began to have its exclusive background theme.