Cid:

Oh, shut up and help me remodel the Dragoon (Final Fantasy III) page!

Please expand this article into a full one. This can be done by making a 2D and 3D weapon/armor table like here. Equipment stats do not belong here since the weapons/armor should link to their respectable list of Final Fantasy III weapon/armor page.. This request can be discussed on the associated

discussion page

.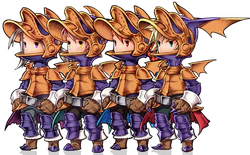 Dragoons are polearm experts. Their Jump ability allows them to deal massive damage while being impervious to enemy attacks.
—In-game description
The bearer of this certificate has tamed the very skies and is deemed worthy of the title of Master Dragoon.
—In-job mastery certificate description
The Dragoon (竜騎士, Ryuukishi?) is a Job class in Final Fantasy III. It is gained from the Water Crystal. Dragoons wield spears in battle and are highly skilled against aerial foes. They are renowned for their ability to launch deadly attacks from above.
Abilities
Edit
NES version
Edit
This is the first time Jump appears in Final Fantasy, and it functions exactly the same as in subsequent games. By jumping into the air, the Dragoon avoids all attacks, and comes back down on the enemy a turn later, doing twice as much damage.
Additionally, when a Dragoon uses Jump against a dragon-type enemy, the damage is higher than usual.
3D versions
Edit
In this version, Jump is the same. However, the damage multiplier is dependent on the Job level, with damage ranging from 1.5x damage to 2.4x damage using the following formula:

Which give the following results:
Job Level
Damage Multiplier
Jump
1-10
1.5
11-21
1.6
22-32
1.7
33-43
1.8
44-54
1.9
55-65
2.0
66-76
2.1
77-87
2.2
88-98
2.3
99
2.4
Additionally, if an enemy is weak against Wind, damage is further doubled.
Level
Str
Agi
Vit
Int
Mnd
Level
Str
Agi
Vit
Int
Mnd
NES Version
3D Versions
1
20
10
10
5
10
1
5
5
5
5
5
10
26
18
14
7
14
10
10
10
10
10
10
20
31
27
18
9
18
20
17
17
15
15
15
30
37
36
22
11
22
30
24
24
20
20
20
40
42
45
26
13
26
40
31
31
24
24
24
50
48
54
30
15
30
50
38
38
29
29
29
60
53
63
34
17
34
60
44
44
34
34
34
70
59
72
38
19
38
70
51
51
38
38
38
80
64
81
42
21
42
80
58
58
43
43
43
90
70
90
46
23
46
90
65
65
48
48
48
99
75
98
50
25
50
99
71
71
52
52
52
Equipment
Edit
In the 3D remake, all Spears have the Wind-element attached, in addition to whatever element is listed here (e.g. Holy Lance still double damages Bahamut).
Other appearances
Edit
The Dragoon job from Final Fantasy III appears in Final Fantasy Legends II in the form of the Onion Dragoon Phantom Stone.

This article or section is a stub about Summon magic in Final Fantasy Legends II. You can help the Final Fantasy Wiki by expanding it.
TCG Luneth, Arc, and Refia appear in Final Fantasy Trading Card Game as Dragoons. Their cards are Lightning-elemental.

Arc appears as a Dragoon in the version available via Final Fantasy Portal App.

Etymology
Edit
[view · edit · purge]"Dragoon" is the traditional name for a special soldier type in classical European warfare. Unlike in Final Fantasy, the original dragoons did not fight with lances, that being the job of "lancers"—a different soldier class. Dragoons were infantry that rode on horseback, but fought on foot. Originally they fought with a musket called the "dragoon," giving them the name. The dragoons' arsenal expanded to include guns, sabres, and axes. During the Napoleonic Wars they became medium cavalry and reached the height of their popularity.
After the Napoleonic Wars, to make better use of the number of men the European military had, the dragoons were trained to use lances and lancers became obsolete. Thanks to the advances of modern warfare, dragoons lost their niche and modern dragoon units exist only for ceremonial purposes.
Though Ricard Highwind from Final Fantasy II marks the first appearance of Dragoons in the series, Final Fantasy III is the first game to feature the Job's Jump command, which would become its trademark.
Final Fantasy III is also the first game to have spears as Dragoons' iconic weapons. The original releases of Final Fantasy II had Ricard skilled only with swords, with later remakes giving him an equal weapon level with spears and a spear equipped by default.
Ad blocker interference detected!
Wikia is a free-to-use site that makes money from advertising. We have a modified experience for viewers using ad blockers

Wikia is not accessible if you've made further modifications. Remove the custom ad blocker rule(s) and the page will load as expected.