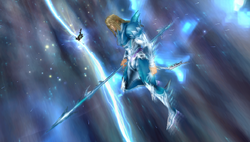 Dragoon's Pride (プライド・オブ・ザ・ドラグーン, Puraido obu za Doragūn?, lit. Pride of the Dragoon) is a recurring ability in the Final Fantasy series. It is Kain Highwind's Limit Break.
Appearances
Edit
Dragoon's Pride is Kain's EX Burst. Kain leaps into the air at high speeds and descends to deliver a powerful single blow to the opponent. The player must trap button commands as they appear on-screen to fill up a power gauge in order to maximize the Bravery damage done.
Kain learns Dragoon's Pride at Level 40. When a boss enemy enters during BMS, Dragoon's Pride damages them according to Kain's Strength, Agility, and Level.
Kain's card depicting his Dissidia 012 artwork can use Dragoon's Pride as an ability. For the cost of 4 Lightning CP, the discard of another Kain card, and dulling Kain, Dragoon's Pride breaks a forward of the player's choosing. As a downside, Kain does not become active the turn after using Dragoon's Pride.