Relm:

I couldn't miss the chance to practice my drawing!

This article is in need of a few pictures. Perhaps you can help by uploading a picture.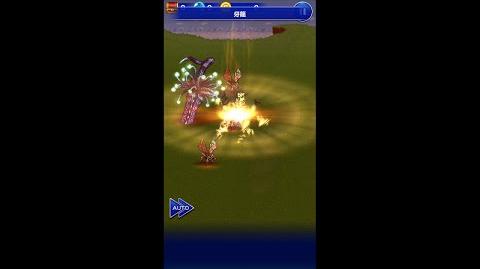 Dragon Fang (牙龍, Garyū?, lit. Fang Dragon) is a Bushido ability from Final Fantasy X. It is the initial Overdrive for Auron, and appears with him in each game. It generally deals moderate non-elemental damage to all enemies.
Appearances
Edit
X Dragon Fang is the initial Overdrive ability for Auron known by default. The input for it is








(








in the Japanese and North American version), and if it is successfully inputted, it will delay all enemies turns. It is a Rank 5 ability.
X-2 Dragon Fang is an enemy ability used by Auron when fought in the Fiend Arena. It inflicts moderate non-elemental damage to the party.
ATB Dragon Fang is the ability that is used by Auron during battle.
FFRK Dragon Fang deals physical damage to all enemies, and temporarily lowers their Attack by a large amount. It's exclusive to Auron, requires one Soul Gauge to use, and is obtained via Shimmering Blade (X). The animation is similar to the original, Final Fantasy X version, however, Auron leaps to the middle of the screen, as opposed to simply jumping straight up, before slamming his blade into the ground.
Etymology
Edit
[view · edit · purge]A dragon is a legendary creature, typically with serpentine or reptilian traits, that features in the myths of many cultures.