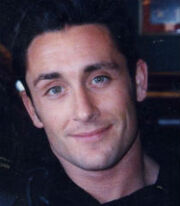 Douglas J. Erholtz (born February 21, 1971) is an American voice actor. He voiced Squall Leonhart in Dissidia Final Fantasy and Dissidia 012 Final Fantasy.
Background
Edit
He is known for voicing Vega (Balrog in Japan) in Street Fighter IV, Asuma Sarutobi and Kankuro from the Naruto series, and Yoshida from Code Geass. He also voiced Izumii and Max Sandshelt in Durarara!!! (produced by Square Enix).
Ad blocker interference detected!
Wikia is a free-to-use site that makes money from advertising. We have a modified experience for viewers using ad blockers

Wikia is not accessible if you've made further modifications. Remove the custom ad blocker rule(s) and the page will load as expected.