Ad blocker interference detected!
Wikia is a free-to-use site that makes money from advertising. We have a modified experience for viewers using ad blockers

Wikia is not accessible if you've made further modifications. Remove the custom ad blocker rule(s) and the page will load as expected.
Final Fantasy XI

Spell


Doton: Ichi

MP:
1 Makibishi
Effect:
Deals very minor earth damage and lowers the enemy's resistance to wind.
Duration:
15 seconds
Casting Time:
4 Seconds
Recast Time:
30 Seconds
Magic Type:
Ninjutsu
Element:
Earth
Jobs:
NIN 15
Doton: Ichi is a Ninjutsu spell in Final Fantasy XI. It deals very small earth damage (usually about 15 damage) and lowers the enemy's resistance to wind damage. The Doton: Ichi scroll can be bought from a Ninja guild in Norg for 1561 - 1747 gil.

This spell is part of the "Elemental Wheel" of Ninjutsu spells in Final Fantasy XI. The spells create a six-part wheel of one spell reducing the enemy's resistance to the element of the next.
The wheel order is represented in this diagram: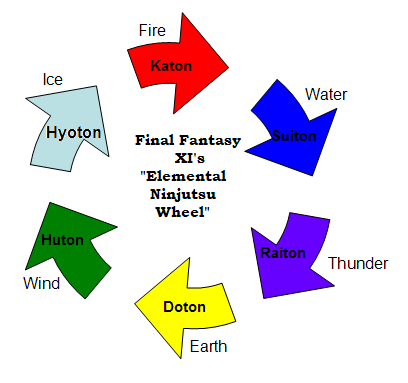 The set Elemental Wheel of Ninjutsu consists of the following (Note: these are in casting order, not alphabetical order, and the casting can begin at any spell in the sequence):