Dorgann Klauser
Talk

2
13,965 pages on
this wiki

Dorgann Klauser (ドルガン・クラウザー, Dorugan Kurauzā?), also known as Drogan Klauser, is a character from Final Fantasy V.
He is Bartz's father and raised Bartz alone after the death of his wife, Stella. According to Bartz, Dorgann kept many secrets from his son. After Stella's death, they moved around until Dorgann fell terminally ill and died three years prior to the game's main storyline. His final wishes were to be buried next to his wife and for Bartz to explore the world.
Later, it is revealed that Dorgann was a member of the Warriors of Dawn, who had sealed Exdeath thirty years ago. Dorgann opted to remain on Bartz's world to watch Exdeath's seal while the other three Warriors returned to their world. Along with the other three warriors, Dorgann appears at the end of the game to give the new generation of Warriors the strength to fight and destroy Exdeath once and for all.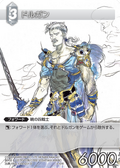 In the GBA/PSP/iOS remakes of the original Final Fantasy, Drogan is one of the automatic names the player can choose for the Monk Job.
In Dissidia Final Fantasy, the artwork for Bartz is in the same pose as Dorgann's original artwork. In addition, one of Bartz's exclusive weapons, Dorgann's Blade, is named after him.
The sword Dorgann is wielding in his Amano artwork is similar to one of the swords seen in the Onion Knight art from Final Fantasy III.
Final Fantasy XII features an airship model named Durga. It is a Dalmascan carrier ship called Dug, appearing only at the opening cinematic.
Dorgann, along with the other Dawn Warriors, has a trophy/achievement named after him in Final Fantasy XIII, "Dorgann's Trophy".