Ad blocker interference detected!
Wikia is a free-to-use site that makes money from advertising. We have a modified experience for viewers using ad blockers

Wikia is not accessible if you've made further modifications. Remove the custom ad blocker rule(s) and the page will load as expected.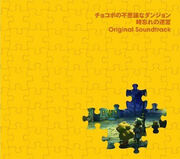 "Door Crawl" (ドアクロール, Doa Kurōru?) is the vocal theme that serves as the ending song for Final Fantasy Fables: Chocobo's Dungeon. In the original soundtrack, it is the 31st track. "Door Crawl" is sung by Ai Kawashima, who is also the composer and lyricist. The song is arranged by Jun Suyama.
心は時々迷子になることがある
孤独や淋しさ感じ尽くせずブレーキかけてしまう
自分と人とを比べても意味がない
くじけるためのプライドなんて必要ないもの
どうして私は今生きているのかな?
答えはいつもいつもただ私のそばをすり抜け消えていく

優しさには優しさが生まれて悲しみには悲しみが続く
それが人の生き方で繰り返される連鎖なんだ
自分にこだわりすぎることをやめたら少しは楽になれる
いつも形にはめてダメになって失敗してきたから

愛する人のために生きていけるのかな?
どこかで知らずに傷つけて気づかないふりをしていたかもしれない
一人じゃ開けない扉があるよ だからあなたと開けたらいい
名もない扉の前で曲がりなりにあなたをずっと待っていたい

この先どうやって泳いでいくのだろう
果てしなく広がりつづけるこの海を

何度も現実を変えようとして 結局は何も変わらなくて
それでもやり過ごさないで懲りずに夢を描いていこう
あなたと重ねたこの手のひらなら弱虫をにぎりつぶせそうだよ
そうやって少しずつでも信じる喜び感じたい

今はまだ開けずにいる扉を全部一つずつ覚えておこう
それはこれから開いていくあなたとの人生の彩り

Kokoro wa tokidoki maigo ni naru koto ga aru
Kodoku ya sabishisa kanji tsukusezu bureeki kakete shimau
Jibun to hito to o kurabete mo imi ga nai
Kujikeru tame no puraido nante hitsuyou nai mo no
Doushite watashi ha ima iki te iru no kana?
Kotae wa itsumo itsumo tada watashi no soba o surinuke kiete iku

Yasashi sa ni wa yasashi sa ga umare te kanashimi ni wa kanashimi ga tsuzuku
Sore ga hito no ikikata de kurikaesareru rensa nanda
Jibun ni kodawari sugiru koto o yame tara sukoshi wa raku ni nareru
Itsumo katachi ni hame te dame ni natte shippai shi te kita kara

Aisuru hito no tame ni ikiteikeru no kana?
Doko ka de shira zu ni kizutsukete kizukanai furi o shiteita kamoshirenai
Hitori ja akenai tobira ga aru yo dakara anata to aketara ii
Na mo nai tobira no mae de magarinari ni anata o zutto matte itai

Kono saki dou yatte oyoi de yuku no daro u
Hateshinaku hirogari tsudukeru kono umi o

Nando mo genjitsu o kaeyou toshite kekkyoku wa nani mo kawaranakute
Soredemo yarisugosanai de korizu ni yume o egaiteikou
Anata to kasane ta kono te no hira nara yowamushi o nigiritsubuse sou da yo
Sou yatte sukoshi zutsu demo shinjiru yorokobi kanjitai

Ima wa mada ake zu ni iru tobira o zenbu hitotsuzutsu oboete okou
Sore wa korekara hirai te iku anata to no jinsei no irodori