Doomsday
Talk

6
13,960 pages on
this wiki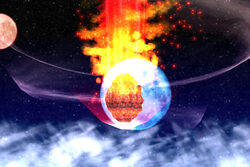 Doomsday (ジハード, Jihādo?) is a recurring Dark-elemental spell in the Final Fantasy series.
Appearances
Edit
Only appearing in the Game Boy Advance version, Doomsday is a Dark Arts spell usable by the Necromancer. It costs 66 MP and is learned from defeating Hades.
Vivi Ornitier is the only party member that can use Doomsday, learned from his ultimate staff, Mace of Zeus. When cast, clusters of asteroids and meteoroids gather together in space to create one enormous meteor, which slowly descends and enters the atmosphere, colliding with the enemy and the surrounding area. It does a large amount of Shadow damage to the enemies and party. It can't be reflected and works with Return Magic.
Steiner can also use Doomsday as a Sword Magic technique, but the difference between Vivi's spell version and Steiner's Sword Magic version is that Vivi's spell targets both enemies and party members, while Steiner only affects all enemies. In the game's Japanese version, Doomsday was known as "Jihad." A powerful combo would be to equip the party with add-ons/armor which absorb shadow, allowing the party to heal massive amounts of HP with every casting of Doomsday. The spell is learned for 150 AP, costs 72 MP to use, and has a spell power of 112.
Doomsday can also be used by Hades and the superboss Ozma.
Doomsday is an ability usable by one of Vivi's cards. Doomsday requires the discard of a Vivi card, Dulling Vivi, and four Fire CP. It deals 7000 damage to each Forward.
Etymology
Edit
Doomsday may refer to the end time, a time period described in the eschatological writings in Abrahamic religions and in doomsday scenarios non-Abrahamic religions.