Cid:

Oh, shut up and help me remodel the Doko de mo Chocobo page!

Please expand this article into a full one . This request can be discussed on the associated discussion page. Remove this notice upon completion.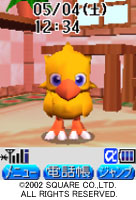 Doko de mo Chocobo (どこでもチョコボ, Doko de mo Chocobo?, lit. Chocobo Anywhere) is a game that was released for Japanese mobile phones running NTTDoCoMo imode. It came as a pre-installed application in Mitsubishi Electric and movaD model phones. In the game, a Chocobo goes on an adventure to solve a riddle.

This article or section is a stub about a Final Fantasy game. You can help the Final Fantasy Wiki by expanding it.