Doctor Tot
Talk

5
13,960 pages on
this wiki
White Mage

: Life's refreshing breeze, blow in energy! Cure!
This article can be improved in areas such as formatting and sectioning according to MoS.
Please refer to the

Manual of Style

or

Editing Help

to get started.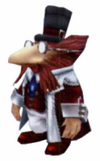 "Where should I start...? First, your beard! Second, your nerdy hat! Third, your thick eyeglasses! All signs of a nerdy philosopher!"
—Eiko's impression on Doctor Tot.
Doctor Tot (トット先生, Totto-sensei?) is Princess Garnet's childhood tutor from Alexandria Castle in Final Fantasy IX. He is the archetypal scatter-brained academic, with thick glasses and a constantly-wandering train of thought, but he remains one of the princess's most loyal friends and comes to the aid of the party multiple times, such as when he reveals the location of Gargan Roo.
Doctor Tot was born in August of 1747, making him 52 by the start of the game.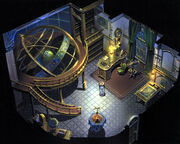 Doctor Tot keeps his residence in Treno, close to the Card Stadium. He has long been a fan of the card game Tetra Master and assists Zidane in the card tournament by giving him more cards should he run low.
Doctor Tot helps diagnose Garnet once she has lost her voice and says she needs calm before she would return to normal. He also attempts to cure Regent Cid who was trapped in the form of an oglop, though he is unsuccessful.
Tot was Garnet's tutor before the beginning of the game and says she was once similar to Eiko, after Eiko wishes to be more like Garnet. Eiko requests Tot's help with a letter for Zidane, and he helps her write a sonnet for him. After their first meeting, the Doctor is stunned by Eiko's casual revelation that she is from Madain Sari and his musings on summoners, the four jewels, and the summoners' village reveal much of the Garnet's backstory, explaining how she came to be in Alexandria as well as the connection between jewels and eidolons.
Etymology
Edit
Doctor Tot's name vaguely resembles Thoth, the Egyptian god of magic and knowledge.
In the GBA/PSP/iOS remakes of the original Final Fantasy, Tot is one of the automatic names the player can choose for the Red Mage job.
Baku is never able to remember Tot's name, instead calling him Tootsie, Toot, and Ted.