Cloud:

I couldn't finish 'em. Looks like this's gonna get complicated.

The following tables are incomplete and require the Romaji entries to be filled. If you wish, please examine the table and add anything missing. Remove this notice upon completion.
Final Fantasy X-2 Enemy
Divebeak
ダイビングくちばし (Daibingu Kuchibashi)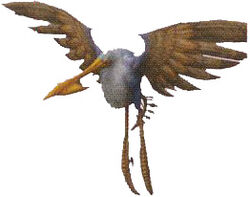 Bird
Statistics
Level
HP
MP
1
10
2
Strength
Magic
Defense
4
1
1
M. Defense
Agility
Accuracy
2
82
16
Evasion
Luck
33
0
EXP
AP
Gil
2
1
12
Divebeak
ダイビングくちばし (Daibingu Kuchibashi)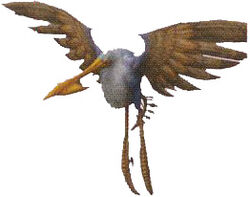 Bird
Statistics
Level
HP
MP
5
72
2
Strength
Magic
Defense
7
1
1
M. Defense
Agility
Accuracy
2
110
20
Evasion
Luck
41
0
EXP
AP
Gil
8
2
28
Normal: "A fiend that swoops down on its prey. It has low HP, so this is an easy win, right? Wrong. It's fast, so you'd better have good aim."
Oversoul: "Sometimes uses Poison attacks. Its speed makes it a very annoying opponent that can easily dodge attacks if your accuracy isn't high enough."
— Scan
Divebeak is an enemy in Final Fantasy X-2. It is an extremely weak enemy and should not pose a single problem, even when Oversouled. At any stage, one hit should be enough to take it down.
Fiend Tale
Edit
In the Fiend Tale endings, one notable Divebeak ran a delivery service for fiends who finds himself doing favors for humans, despite his initial feelings towards them. Eventually, Divebeak ends up delivering medicine for a sickly child in the Thunder Plains. However, after a brush in with Humbaba, Divebeak passes on to the Farplane out of relief of fulfilling his delivery. Only one feather remained of him and the child he saved kept it as a memento.
Other appearances
Edit


This article or section is a stub about an enemy in Final Fantasy Record Keeper. You can help the Final Fantasy Wiki by expanding it.
Related enemies
Edit