Distant Worlds: Music from Final Fantasy
Talk

0
Share
Ad blocker interference detected!
Wikia is a free-to-use site that makes money from advertising. We have a modified experience for viewers using ad blockers

Wikia is not accessible if you've made further modifications. Remove the custom ad blocker rule(s) and the page will load as expected.
Distant Worlds: music from Final Fantasy is a live recording of an orchestral concert, performed by the Royal Stockholm Philharmonic Orchestra and conducted by Arnie Roth at the Stockholm Concert Hall in Stockholm, Sweden, on December 4th, 2007. Since its recording, the Distant Worlds program has been performed in many cities worldwide, and there are hopes that this concert would tour the world to help bring these iconic themes to a wider audience.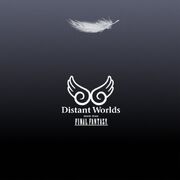 Track list
Edit
"Aerith's Theme" (Final Fantasy VII)
"Fisherman's Horizon" (Final Fantasy VIII)
"Don't Be Afraid" (Final Fantasy VIII)
"Love Grows" (Final Fantasy VIII)
"Swing de Chocobo"
"One-Winged Angel" (Final Fantasy VII)