Disable (Ability)
Talk

0
13,964 pages on
this wiki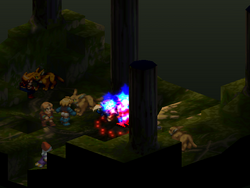 "Render the target incapable of action."
—Description, Final Fantasy Tactics.
Disable (ドンアク, Don Aku?) is a recurring ability that usually inflicts the Disable status effect. While there are many abilities available to enemy and ally alike that inflict the status, the Disable spell itself is normally a part of a specific class of magic.
Appearances
Edit
Disable's License is Time Magick 2. In the International Zodiac Job System version, Disable is available for the Red Mage and Time Mage Job classes. There are also two upgraded versions of the spell called Disablega, and Level 3 Disable.
"Mindless, spiritless, hear the immutable beat... Paralyze!"
—Upon casting in Playstation version.
Hesitation, originally known as Paralyze, is a Mystic spell that inflicts the Disable status on a small group of targets in an area. It has a range of 4, speed of 20, and costs 10 MP to cast, as well as requiring 100 JP to master.
Disable, originally called Don't Move, is part of the Templar's Spellblade skillset, costing 14 MP to cast with a range of 4. It requires 50 JP to master.