Final Fantasy X-2 Enemy
Dinictus
ディニクチス (Dinikuchisu)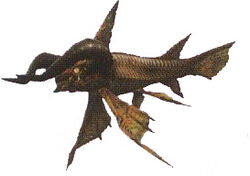 Dinofish
Statistics
Level
HP
MP
24
1,873
0
Strength
Magic
Defense
78
114
22
M. Defense
Agility
Accuracy
0
68
5
Evasion
Luck
0
0
EXP
AP
Gil
187
1
88
Dinictus
ディニクチス (Dinikuchisu)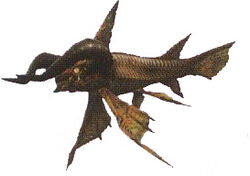 Dinofish
Statistics
Level
HP
MP
32
7,792
0
Strength
Magic
Defense
84
114
22
M. Defense
Agility
Accuracy
0
78
6
Evasion
Luck
0
0
EXP
AP
Gil
370
2
140
Normal: "A fish-like fiend that swims through the air. It has an extremely violent temperament, baring its fangs and charging at anything that moves. Scary."
Oversoul: "A fish-like fiend that swims through the air. It has an extremely violent temperament and attacks viciously and relentlessly."
— Scan
The Dinictus is an enemy in Final Fantasy X-2. It is of no threat even at the stage of the game it appears in, unless it is Oversouled, in which case it can be problematic if the player does not defeat it quickly enough. Using Lightning and Gravity-elemental attacks will help immensely with defeating this foe.
Dinictus Coin
Coin No.
42
Coin Value
1
Trait
Coin Count: 2
Location
Found in the Central Expanse of the Bikanel Desert.
Etymology
Edit
Many enemies in Final Fantasy X-2 are named after extinct genera of animals. [view · edit · purge]Dinictis is a genus of the Nimravidae, an extinct family of feliform mammalian carnivores, also known as "false saber-toothed cats". Despite the name, the enemy in Final Fantasy X-2 is a fish.
Related enemies
Edit